Didn't you receive your PESCO bill this month? What do you have to do now if you do not receive your home electricity bill? No need to worry, and you don't have to pay extra charges if you have missed the bill. You can now view your duplicate bill from Pesco's official website and print it out.
How to get PESCO Duplicate Bill?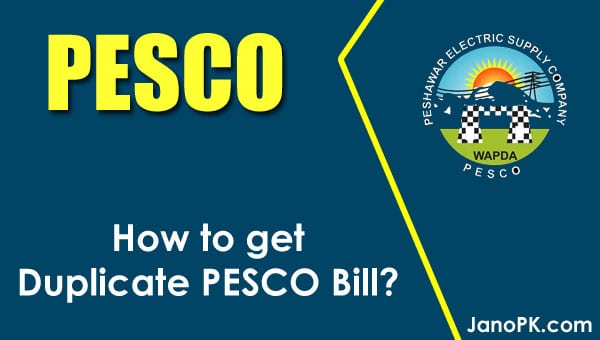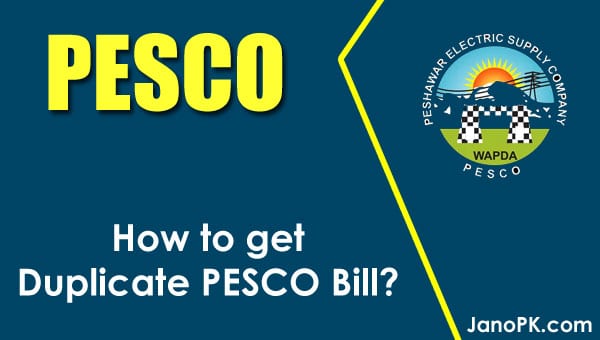 To get PESCO Duplicate Bill, you need to follow these simple steps:
Find out your previous Bill
Find the reference number on that WAPDA Bill
Click on the button below, a website will open
Type the reference number in the textbox & click on submit
A duplicate bill will appear before you.
You can simply get its print or use it as you want.
You May Also Like:
How to Pay PESCO bill?
You can pay the PESCO bill by going personally to the Bank or Post Office or online by using some app or internet banking. Let's discuss both methods in detail:
#1. By Online
Now it's the era of technology, you don't have to go to the bank or PESCO office to pay your bill. You can now pay your PESCO bill online. There are different methods that you can use.
Internet Banking: If you have your account in any bank, you can log in and simply pay your bill by entering the reference bill there.
Easypaisa & JazzCash: Another very simple method to pay your PESCO bill online is using the Easypaisa or JazzCash app.
#2. By Offline
Yes, you can pay your bill using the conventional offline way. But for that purpose, you must have a hard copy of your PESCO Bill. You must have to get a duplicate copy of your WAPDA bill by using the method mentioned above.
Here are some offline payment methods:
All Commercial Banks
Easypaisa and JazzCash Shops
Post Offices
NADRA Collection Points
ATMs
What is PESCO?
PESCO is the abbreviation of the Peshawar Electric Supply Company. As the name says it supplies electricity in different areas related to Peshawar. Water & Power Development Authority (WAPDA) has established many electric supply companies in Pakistan like PESCO, LESCO, HESCO, MEPCO, etc. Now it is the responsibility of these sub-companies to provide and manage electricity in their respective area.
How to Apply for PESCO New Connection?
Do you want to apply for the PESCO New Connection? The procedure is very simple. Just Visit this website, fill up the form, and apply for the new connection.