Portugal has rapidly become one of Europe's most sought-after destinations for work, travel, and lifestyle. Whether it's the beautiful landscapes, delicious cuisine, or the friendliness of its people, Portugal has something for everyone. For non-EU citizens interested in living and working in this mesmerizing country, obtaining a Portugal Job Seeker Visa is the first critical step.
Explore our detailed guide on Portugal Job Seeker Visa Requirements to ease your move to Portugal. Find out eligibility criteria, essential documents, and steps for a successful application.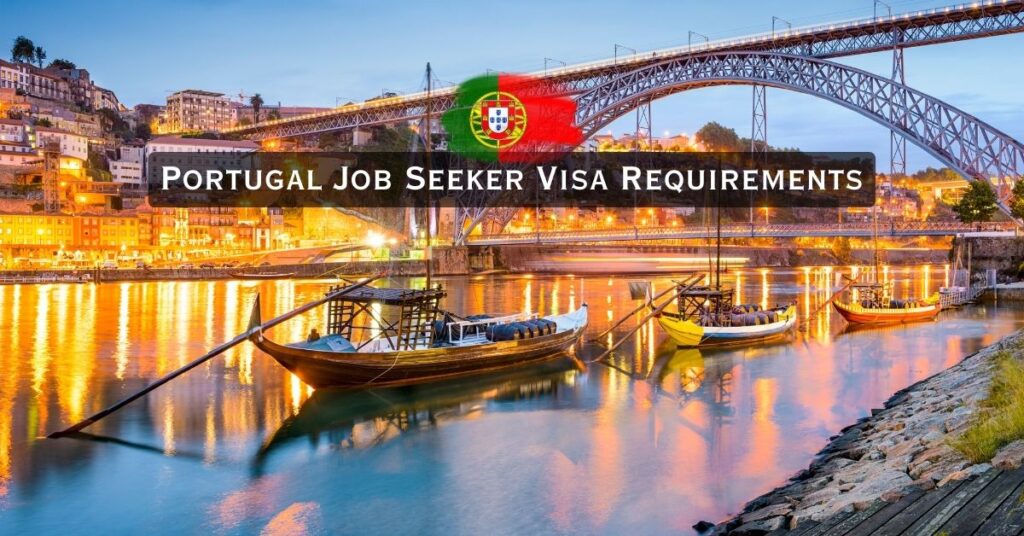 What Is the Portugal Job Seeker Visa?
The Portugal Job Seeker Visa is a specialized visa designed for individuals outside the European Union who wish to move to Portugal to seek employment. The initial validity of this visa is 120 days, and it can be further extended by another 60 days if required.
Who Is Eligible?
Basic Eligibility Criteria
To qualify for this visa, applicants must meet the following criteria:
Nationality: You must be a citizen of a country outside the European Union.
Valid Passport: Ensure that you have a passport with validity that extends beyond your intended stay.
Criminal Record: Your criminal background should be spotless; a clean criminal record is mandatory.
Financial Solvency: You need to prove that you have enough finances to sustain yourself throughout your stay in Portugal.
Health Insurance: Adequate health coverage for the entire duration of your stay in Portugal is necessary.
Job Offer: Lastly, having a job offer letter from a Portuguese employer can make your application more robust, although it's not a compulsory requirement.
Required Documents
To lodge your application, you'll need to prepare a series of documents, including:
A filled-out visa application form
Your passport
A certificate proving you have no criminal record
Documentation showing you have sufficient financial means
Proof of health insurance
A job offer letter from a Portuguese employer (if available)
Application Process
Where to Apply
To submit your application for a Portugal Job Seeker Visa, you must visit the Portuguese embassy or consulate in your home country. The typical processing time ranges between 10 and 15 days, so plan accordingly.
Application Process for Asian Citizens
If you're applying from Asia, here is a brief overview of the steps involved:
Skill Evaluation: Assess your qualifications and skills to ensure they are in high demand in Portugal.
Consult an Expert: Before proceeding, it might be beneficial to consult a Portuguese immigration lawyer or consultant to review your skillset and qualifications.
Prepare the Checklist: Organize all the required documents, including the application form, passport, criminal record certificate, financial proofs, and health insurance documents.
Submission: Head to your home country's nearest Portuguese embassy or consulate to submit your application.
Arrival and Job Hunt: Once your visa is approved, fly to Portugal and begin your job search.
If you are from Pakistan, here is a complete guide for you to apply for a work visa in Portugal.
What Happens After You Arrive?
Upon your arrival in Portugal, you have 120 days to secure employment. If you're successful, the next step is to apply for a residence permit which will allow you to live and work in Portugal for a more extended period.
Tips for Success
Job Market Research: Before applying for the visa, research the Portuguese job market thoroughly to ensure your skills are in demand.
Networking: Once you arrive, networking can be a powerful tool in your job search.
Language: While English is widely understood, learning some basic Portuguese can give you a competitive edge in the job market.
Stay Updated: Laws and regulations can change, so always check the latest visa guidelines on the official website of the Portuguese embassy or consulate.
FAQs
Where can I apply for the Portugal Job Seeker Visa?
Applications can be made at the Portuguese embassy or consulate in your home country. It generally takes about 10-15 days for the application to be processed.
What documents do I need to apply?
You'll need several key documents such as a completed visa application form, your passport, a criminal record certificate, proof of sufficient funds, evidence of health insurance, and optionally, a job offer letter from a Portuguese employer.
Is health insurance mandatory?
Yes, having valid health insurance that covers you for the entire duration of your stay in Portugal is a mandatory requirement for this visa.
What if I don't find a job within 120 days?
If you fail to secure employment within the initial 120 days, you can apply for a 60-day extension. However, if you still can't find a job within that extended period, you may have to leave the country.
Are family members covered under this visa?
The Portugal Job Seeker Visa is usually issued for individual applicants. If you wish to bring family members, separate applications and criteria will apply.
Final Words
Portugal offers a high quality of life, a growing economy, and numerous opportunities for skilled professionals. If you're a non-EU citizen aiming to explore work opportunities in this European gem, a Portugal Job Seeker Visa can be your entry ticket. Make sure to meet all the eligibility requirements and assemble all the necessary documents to make your dream of working in Portugal a reality. Good luck!