Indonesia, an archipelago of over 17,000 islands, offers diverse experiences ranging from the modern, bustling streets of Jakarta to the serene, white-sand beaches of Bali. The blend of cultures, rich history, and unmatched natural beauty make it a desirable destination for many. If you're a Pakistani national planning to visit this Southeast Asian gem, you'll need to ensure you have the appropriate visa. In this blog post, we'll walk you through a step-by-step process on how to apply for an Indonesia visa from Pakistan.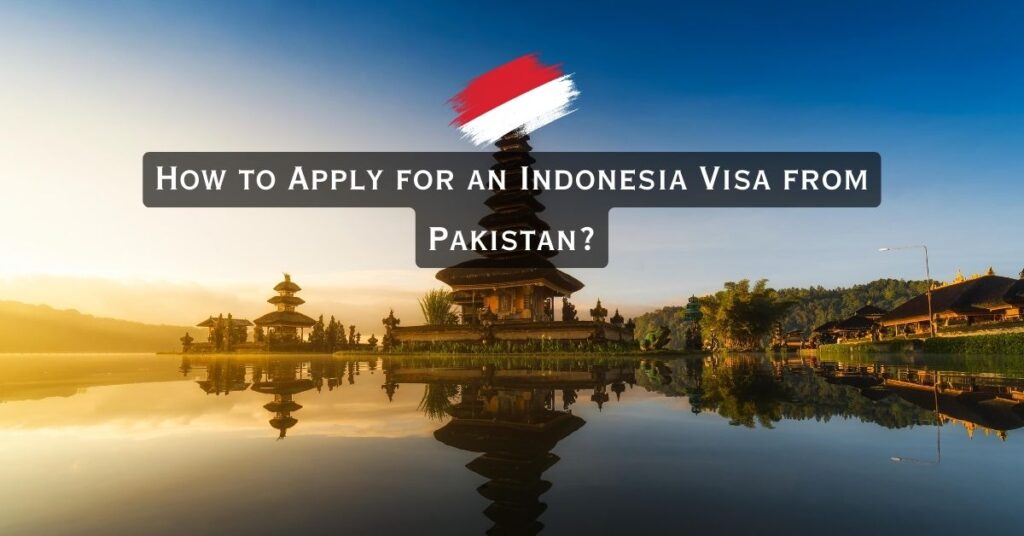 1. Determine the Purpose of Your Visit
The first step is to determine the purpose of your visit. Indonesia offers various visa types depending on your travel purpose:
Tourist Visa: For those visiting Indonesia for leisure or tourism.
Business Visa: If you intend to attend business meetings, seminars, or exhibitions.
Social Visa: For family visits or social purposes.
Work Visa: If you're planning to work in Indonesia.
The requirements and processes might differ slightly based on the visa type, so it's crucial to be clear about your travel purpose.
2. Gather Necessary Documentation
Once you've determined your visa type, start collecting the required documents. Typically, for most visa types, you would need:
A valid Pakistani passport with at least 6 months of validity from the intended date of entry.
A completed visa application form.
Passport-sized photographs as per the Indonesian embassy's specifications.
Proof of a return ticket or a ticket to another destination after Indonesia.
Proof of hotel bookings or accommodation arrangements in Indonesia.
Bank statement or other proof of sufficient funds to cover your stay.
Invitation letter, if visiting someone or for business purposes.
Additional documentation might be required depending on the specific visa type.
3. Visit the Indonesian Embassy in Pakistan
Once your documentation is ready, you need to submit it in person to the Indonesian Embassy in Islamabad. It's a good practice to check their official website or call them in advance to confirm operating hours, any changes in the documentation requirements, or any applicable fees.
Address of the Indonesian Embassy in Islamabad: Diplomatic Enclave I Street 5, Ramna, G-5, Islamabad, Pakistan.
4. Pay the Visa Fee
Upon visiting the embassy, you'll be required to pay the visa application fee. The fee may vary based on the visa type and is subject to change, so ensure you're carrying enough cash and confirm the current rate on the embassy's official website.
5. Attend an Interview (if necessary)
For some visa categories or in specific cases, the embassy might ask you to attend a visa interview. This is a standard procedure to ascertain the authenticity of your visit and intentions. If called for an interview, dress appropriately and be prepared to answer questions related to your travel, financial situation, and any connections you might have in Indonesia.
Read Also: How to apply for a Singapore Visa from Pakistan?
6. Wait for Visa Approval
After submitting your application and attending an interview, you'll need to wait for the visa to be processed. The duration for visa processing can vary based on several factors, but it generally takes anywhere from a few days to a couple of weeks. Make sure to apply well in advance of your planned travel dates to allow sufficient time for processing.
7. Collect Your Visa
Once your visa has been approved, you'll receive a notification (usually a phone call or a text) from the embassy informing you to collect your passport with the visa stamp. Remember to bring along any receipts or tokens given to you during the application submission.
8. Adhere to the Visa Regulations
Once in Indonesia, make sure to adhere to all visa rules and conditions. Overstaying your visa or violating visa terms can lead to penalties or deportation.
FAQs
Do all Pakistani nationals require a visa to visit Indonesia?
Yes, Pakistani nationals need a visa to visit Indonesia. The type of visa required depends on the purpose and duration of the visit.
What happens if I overstay my visa in Indonesia?
Overstaying your visa in Indonesia can lead to penalties, fines, or even deportation. It's crucial to adhere to the visa conditions and duration to avoid any legal complications.
Can I convert my tourist visa to a work visa while I'm in Indonesia?
Generally, you cannot convert a tourist visa to a work visa while inside Indonesia. If you wish to work in Indonesia, you should apply for the appropriate work visa or permit before entering the country.
How much is the visa application fee for Indonesian visas?
The visa application fee can vary based on the type of visa you're applying for. It's recommended to check the official website of the Indonesian Embassy in Islamabad or contact them directly for the most up-to-date fee structure.
What should I do if my visa application is denied?
If your visa application is denied, the embassy will typically provide a reason for the rejection. You can address the concerns and reapply or consult with a visa expert for guidance on any subsequent applications.
Conclusion
Applying for an Indonesian visa from Pakistan is a straightforward process, provided you have all the required documents and adhere to the given guidelines. Always make sure to check the latest requirements on the official website of the Indonesian Embassy in Islamabad to ensure a hassle-free application process. Indonesia awaits with its rich cultural tapestry, breathtaking landscapes, and warm hospitality! Safe travels!