Canada is famed for its vast expanses of wilderness, vibrant cultural hubs, and welcoming nature towards immigrants. Every year, thousands flock to the Great White North in hopes of securing a better future for themselves and their families. One of the most popular pathways to Canadian permanent residency is the Express Entry system. If you're looking to make Canada your new home, here's a comprehensive guide to navigate through this system.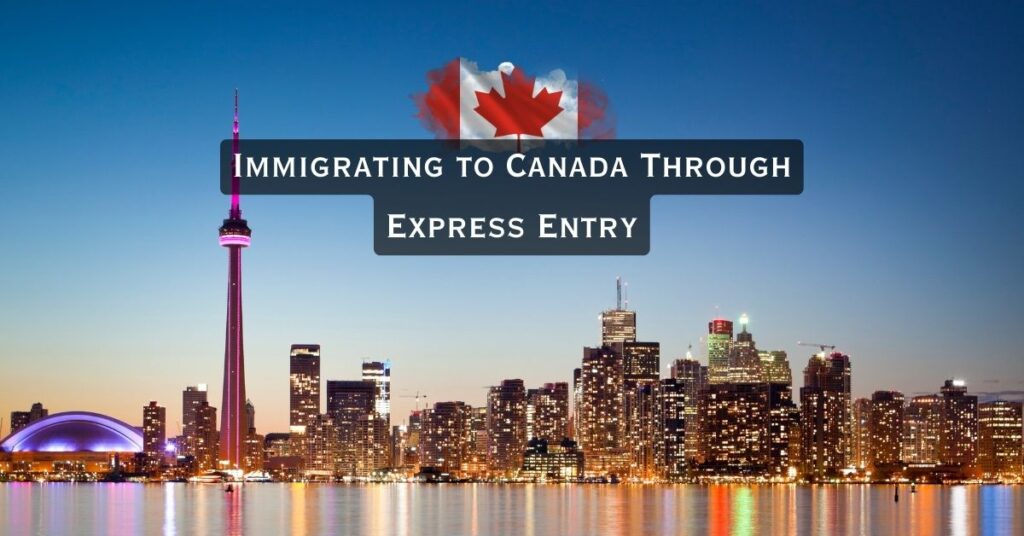 What is Express Entry?
Established in 2015, Express Entry is a system that facilitates the selection and processing of Canada's three main federal economic immigration programs:
Federal Skilled Worker Program (FSWP)
Federal Skilled Trades Program (FSTP)
Canadian Experience Class (CEC)
It's an online system that sorts out eligible candidates for immigration to Canada. Rather than waiting for long durations, Express Entry has streamlined the process, making immigration faster and more efficient.
How Does Express Entry Work?
The process begins when an interested candidate creates an online profile, detailing their skills, work experience, language proficiency, education, and other personal information. These profiles are then scored based on the Comprehensive Ranking System (CRS), which assigns points out of a possible 1200.
Factors like age, education, work experience, and language proficiency play a pivotal role in determining one's CRS score. Every so often, Immigration, Refugees, and Citizenship Canada (IRCC) conducts draws and sends Invitations to Apply (ITA) for permanent residency to the highest-scoring profiles.
Eligibility Criteria
To be eligible for Express Entry, you must:
Qualify for one of the federal economic immigration programs: Ensure you meet the requirements for the FSWP, FSTP, or CEC.
Language Proficiency: Take an approved language test (IELTS, CELPIP for English; TEF for French) and score at least the minimum required in all four abilities: reading, writing, listening, and speaking.
Educational Credential Assessment (ECA): If you were educated outside Canada, you might need an ECA from an approved agency to prove that your education is valid and equal to a Canadian standard.
Steps to Apply for Express Entry
Prepare Relevant Documents: Before starting, gather necessary documents like a passport, language test results, education credential assessment, job offer letter (if any), police certificates, and others.
Create Your Express Entry Profile: This online profile is where you input your details. Ensure it's accurate to avoid any issues during the verification process.
Receive an ITA: If your score is among the highest, you'll get an ITA. Once received, you have 60 days to submit a complete application for permanent residency.
Application Review: The IRCC will review your application for accuracy. They might ask for additional documents or an interview.
Decision: If all goes well, you'll receive a confirmation of permanent residency (COPR) and an entry visa.
If you are from Pakistan, check out the complete process to apply for a Canadian Visa.
What is the Comprehensive Ranking System (CRS)?
In its simplest form, the CRS is a point-based system that Canada uses to determine who gets an invitation to apply for permanent residency. Think of it as a leaderboard: candidates who have the most points are positioned at the top and stand a better chance of receiving an invitation. The points are awarded based on various aspects of your profile, like age, education, and work experience.
How Are CRS Points Distributed?
The CRS evaluates profiles up to a maximum of 1,200 points. Here's a general breakdown of how these points are allocated:
Core Human Capital Factors (Maximum 460 – 500 points):

Age: Younger applicants tend to score more. For instance, those in their 20s often get the highest points.
Education: Points are awarded based on the highest educational level achieved, from high school diplomas to Ph.Ds.
Work Experience: More years of work can fetch you more points. Especially beneficial if you have Canadian work experience.
Language Ability: Proficiency in English and/or French is essential. The better your language test scores, the more points you gain.

Accompanying Spouse or Common-Law Factors (Maximum 40 points): If you have a spouse or common-law partner, their age, education, work experience, and language proficiency can also contribute to your CRS score.
Skill Transferability Factors (Maximum 100 points): Combinations of your education, foreign work experience, and language proficiency can give you extra points.
Additional Points (Maximum 600 points):

Canadian Education: If you've studied in Canada, you can earn extra points.
Canadian Work Experience: Experience working in Canada can boost your score.
French Language Skills: Extra points are awarded for good French language skills, especially if combined with English skills.
Sibling in Canada: Having a brother or sister living in Canada (who is a citizen or permanent resident) can also fetch you points.
Provincial Nomination: If a Canadian province nominates you, you hit the jackpot with an extra 600 points.
Why Is the CRS Score Important?
The government regularly conducts Express Entry draws where they set a CRS score cut-off. Only those above this score receive an invitation to apply for permanent residency. Hence, improving your CRS score can directly influence your chances of migrating to Canada.
Tips for Improving Your CRS Score
If you're finding your score a tad lower than required, consider these tips:
Improve Language Scores: The better your language proficiency, the higher your points. Consider retaking the test or attending classes to boost your skills.
Additional Education: Pursuing further education, like a post-graduate course, can give your score a boost.
Secure a Job Offer: While not mandatory, having a valid job offer from a Canadian employer can significantly increase your points.
Canadian Experience: If you have the means, consider studying or working in Canada before applying. Canadian work experience fetches more points under the CRS.
Provincial Nominee Program (PNP): Many Canadian provinces have immigration programs that are aligned with Express Entry. Getting a provincial nomination can add a whopping 600 points to your CRS score!
Why Express Entry?
Canada's Express Entry system offers a plethora of advantages:
Speed: Most Express Entry applications are processed within six months.
Flexibility: Without a mandatory job offer requirement, you're free to settle in any part of Canada.
Transparency: With the CRS, you know exactly where you stand and what you need to improve.
FAQs: Immigrating to Canada Through Express Entry
How long does the Express Entry process typically take?
After receiving an Invitation to Apply (ITA) and once a complete application is submitted, the Canadian government aims to process most Express Entry applications within six months. However, the total time also depends on the individual's CRS score and how quickly they receive an ITA.
Is a job offer mandatory for Express Entry?
No, a job offer is not mandatory to enter the Express Entry pool. However, if you do have a valid job offer from a Canadian employer, it can earn you additional CRS points, enhancing your chances of receiving an ITA.
Does my spouse's profile affect my Express Entry application?
Yes, if you're applying with a spouse or common-law partner, their age, education, work experience, and language proficiency can influence your total CRS score. In some cases, having a well-qualified spouse can improve your chances.
What is a Provincial Nominee Program (PNP), and how is it linked to Express Entry?
Provincial Nominee Programs (PNPs) are immigration programs operated by individual Canadian provinces. Each province can nominate individuals to immigrate based on the province's specific needs. Some PNPs are aligned with Express Entry. If you receive a provincial nomination through an Express Entry-aligned PNP, you're awarded an additional 600 CRS points, which almost guarantees an ITA in the next federal draw.
Conclusion
Canada's Express Entry system is a beacon of hope for many aspiring immigrants. It promises a land filled with opportunities, high living standards, and a multicultural fabric that's hard to find elsewhere. However, like all immigration processes, it demands thorough research, meticulous preparation, and patience. With the right approach, your Canadian dream is just a few clicks away!