Pursuing an education in the UK is a dream for many Pakistani students, and rightly so. The UK is home to world-renowned universities and offers diverse courses that cater to students worldwide. If you are a Pakistani student aspiring to study in the UK, one of the primary steps is securing a UK study visa. This article will guide you through the step-by-step process of how to apply for UK study visa from Pakistan.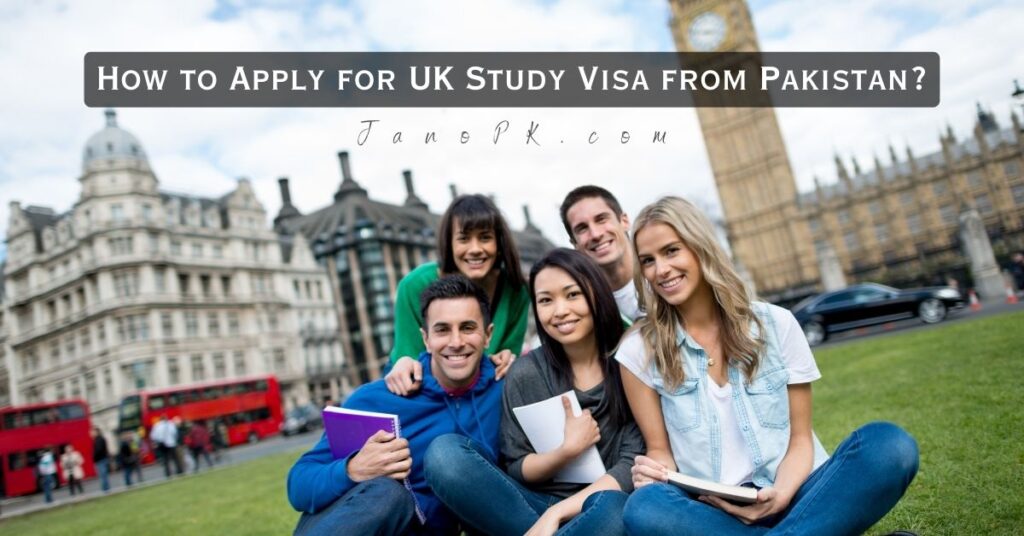 1. Understand the Type of Visa You Need
The primary visa for students is the Tier 4 (General) Student Visa. This visa is designed for students aged 16 or above who wish to pursue higher education in the UK. To apply, you must have been offered a place on a course and can speak, read, write, and understand English.
2. Get an Offer from a UK Educational Institution
Before you can apply for the visa:
You must be accepted onto a course by an institution with a valid Tier 4 Sponsor License. Select the best university according to your choice in the UK, and apply for admission there.
Receive a Confirmation of Acceptance for Studies (CAS) from your chosen institution.
3. Create an Account on the UK Visa & Immigration Website
Initiate your visa application process by visiting the official UK Visa & Immigration website. Create an account, where you can complete the visa application form, book your biometrics appointment, and make the necessary payments.
4. Complete the Online Application Form
Fill out the Tier 4 Student Visa application form.
Ensure the information aligns with what's provided in your CAS and other supporting documents.
Double-check for accuracy to avoid delays or refusals.
5. Pay the Application Fee
Once you've completed the application form, you'll be prompted to pay the visa application fee. Fees may vary, so make sure you're aware of the current rates when you apply.
Read Also: How to Apply for UK Visa from Pakistan?
6. Schedule a Biometrics Appointment
After making your payment, book an appointment at your nearest visa application center (VAC) in Pakistan for biometrics. VACs can be found in cities like Islamabad, Karachi, and Lahore.
7. Gather Necessary Documents
Compile the following documents:
A valid passport with at least one blank page.
A passport-sized color photograph, adhering to the UK visa photo requirements.
Your CAS statement.
Proof of funds shows you can pay for the course and support yourself. This can be in bank statements or a financial sponsorship letter.
Documents proving your knowledge of English, such as an IELTS or TOEFL certificate.
An Academic Technology Approval Scheme (ATAS) clearance certificate, if your course requires one.
Tuberculosis (TB) test results, if you're from a country where taking the test is required.
8. Attend the Biometrics Appointment
Arrive at the VAC on time.
Have your appointment confirmation, passport, and passport-sized photograph with you.
Your fingerprints and photograph will be taken.
Submit your visa application and accompanying documents.
9. Healthcare Surcharge
You might need to pay a healthcare surcharge as part of your application, which gives you access to the UK's National Health Service. Ensure this is completed as part of your application process.
10. Track Your Application
After attending your biometrics appointment, your documents and biometric data will be forwarded to the UK Visa & Immigration office. Monitor the status of your application through your Visa4UK account.
11. Collect Your Passport and Visa Decision
Once your visa application is processed, you will receive a notification. You can either retrieve your passport from the VAC or opt for courier delivery. Alongside your passport, you will receive your visa decision.
UK Student Visa Fee from Pakistan
The fee for the UK Student Visa can vary depending on several factors, including the duration and type of course, and where you're applying from. However, visa fees are updated periodically, so the most accurate and up-to-date information should be retrieved directly from the official UK government website or their official visa application platform.
You can simply visit this website, and check the visa fee according to your visa type.
Tips for a Smooth UK Study Visa Application from Pakistan
Start your application well in advance, especially if your course has a fixed commencement date.
Make sure all documents, especially financial proofs, are genuine. Submitting fraudulent documents could lead to visa bans.
Maintain clear communication with your UK educational institution. They can offer advice or assistance during your application.
If refused, carefully review the reasons and consider addressing them if reapplying or appealing.
In summary, while the process of applying for a UK study visa from Pakistan can seem extensive, meticulous preparation makes it manageable. By ensuring accuracy in your application and being thorough with your documentation, you increase your chances of securing the visa and stepping closer to your UK educational dream. Best of luck with your studies and visa application!