Are you in search of a SIM card that not only connects you with the world but also offers fantastic perks? Look no further because Zong, one of Pakistan's leading telecommunications providers, has launched an exciting New SIM offer. In this blog post, we'll delve into the details of the Zong New SIM Offer, highlighting the incredible benefits it brings to the table.
Zong New SIM Offer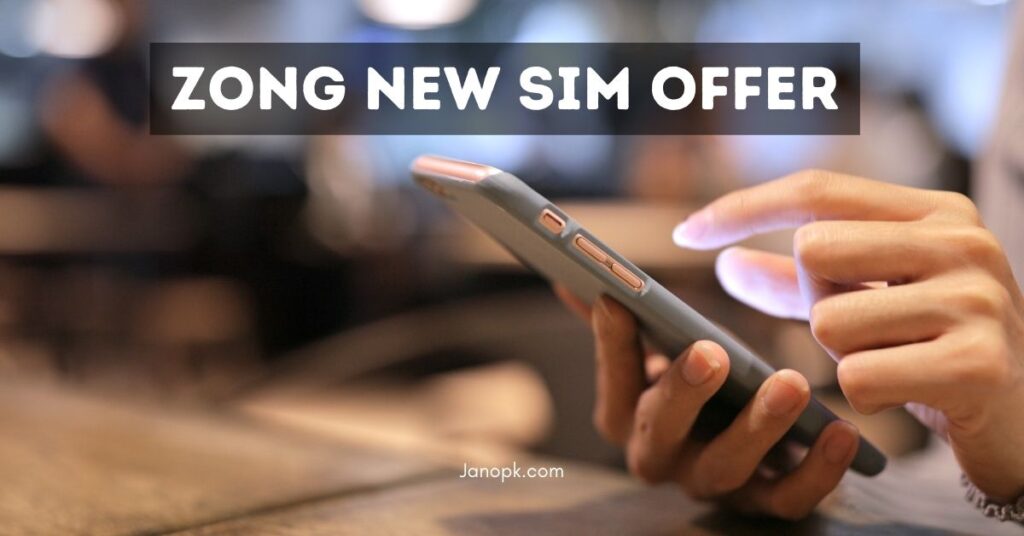 Zong's latest SIM offer is designed to cater to a wide range of communication needs. It combines generous data allowances with abundant talk time, making it a great choice for users looking for an all-in-one package. Let's take a closer look at what this offer includes:
| | |
| --- | --- |
| Internet | 2 GBs |
| WhatApp Data | 1 GB |
| Facebook Data | 1 GB |
| Onnet Minutes | 1,000 |
| SMS | 0 |
| Validity | 7 Days |
| Code | *10# |
Data Delight
In an era where staying connected to the internet is essential, the Zong New SIM Offer provides ample data for various purposes. Here's what you get:
2GB Internet Data for Browsing: Whether you want to surf the web, stream videos, or check your emails, you have 2GB of high-speed internet at your disposal.
1GB for WhatsApp: As one of the most popular messaging apps, WhatsApp deserves its own dedicated data allowance. With 1GB of WhatsApp, you can chat, call, and share media without worrying about running out of data.
1GB for Facebook: Social media enthusiasts will appreciate the 1GB of data for Facebook. Stay connected with friends, update your status, and scroll through your feed without depleting your main data allowance.
Calling Convenience
In addition to data, the Zong New SIM Offer ensures you have ample talk time. It includes:
1,000 Zong-to-Zong Minutes: These minutes allow you to make calls to any other Zong number without worrying about your balance.
This combination of data and minutes caters to both data-hungry users and those who prefer voice communication. But how can you activate this fantastic offer? It's as simple as 1-2-3.
Activating the Zong New SIM Offer
The best part about the Zong New SIM Offer is that activating it is a straightforward process. You won't need to go through any complex procedures to enjoy the benefits. Here's how to get started:
Step 1: Get Your Zong SIM Card: If you don't already have a Zong SIM card, visit your nearest Zong retailer or service center to purchase one. You'll need a valid CNIC (Computerized National Identity Card) or the required identification to get your new SIM card.
Step 2: Insert the SIM Card: Once you have your new Zong SIM card, insert it into your mobile phone. Ensure that it's correctly placed and that your phone recognizes the SIM card.
Step 3: Dial *10#: The magic code to unlock all the incredible benefits of the Zong New SIM Offer is *10#. Simply dial this code on your phone and press the call button. You'll receive a confirmation message, and your 4,000 MB of data (inclusive of 1GB for WhatsApp and 1GB for Facebook) and 1,000 Zong-to-Zong minutes will be activated.
Step 4: Enjoy the Benefits: With the Zong New SIM Offer activated, you can start browsing, chatting on WhatsApp, and scrolling through Facebook immediately. Plus, you have 1,000 minutes to call your friends and family on the Zong network.
Here is how you can unsubscribe from Zong Dial Tune Service!
Validity and Terms
It's crucial to be aware of the terms and conditions of any offer, and the Zong New SIM Offer is no exception. Here's what you need to know:
The offer is valid for 7 days from the activation date, providing you with a full week of uninterrupted connectivity.
The 1GB for WhatsApp and 1GB for Facebook are part of the 4,000 MB data allocation. So, if you use up the WhatsApp or Facebook data, it will be deducted from the 4,000 MB.
The 1,000 Zong-to-Zong minutes are exclusively for calling other Zong numbers.
Why Choose Zong?
Before making a decision, it's essential to understand what sets Zong apart as a telecom provider:
Extensive Network Coverage: Zong boasts a vast network that spans across Pakistan. Whether you're in a bustling city or a remote village, you can count on Zong's network to keep you connected.
Cutting-Edge Technology: Zong is at the forefront of 4G and 4G LTE technology in Pakistan, ensuring lightning-fast data speeds for your browsing and streaming needs.
Innovative Packages: The Zong New SIM Offer is just one example of Zong's commitment to providing innovative packages. Whether you're a student, a professional, or someone in between, Zong has a plan tailored to your specific needs.
Customer-Centric Approach: Zong takes pride in delivering excellent customer service. If you have any questions or concerns, their dedicated support team is ready to assist you.
Conclusion
The Zong New SIM Offer is a gateway to a connected, convenient, and data-rich mobile experience. With its impressive data allowances and ample talk time, it caters to a diverse range of users. Activating the offer is a simple process, and its validity for 7 days gives you ample time to enjoy all the benefits.
So, if you're in the market for a new SIM card that offers the best of both data and talk time, the Zong New SIM Offer should be at the top of your list. It's a package that understands your communication needs and is ready to provide an exceptional mobile experience. Get your new Zong SIM card today and unlock a world of connectivity possibilities!