Turkey, with its rich history, beautiful landscapes, and vibrant culture, has always been a favorite tourist destination for many. Its location at the crossroads of Europe and Asia makes it unique, drawing in travelers, business professionals, and students alike. If you are a Pakistani citizen planning to visit Turkey, you'll need to go through the visa application process. In this comprehensive guide, we have discussed how to apply for Turkey Visa from Pakistan. It includes a complete process, required documents, and tips for Pakistani citizens seeking a Turkish visa.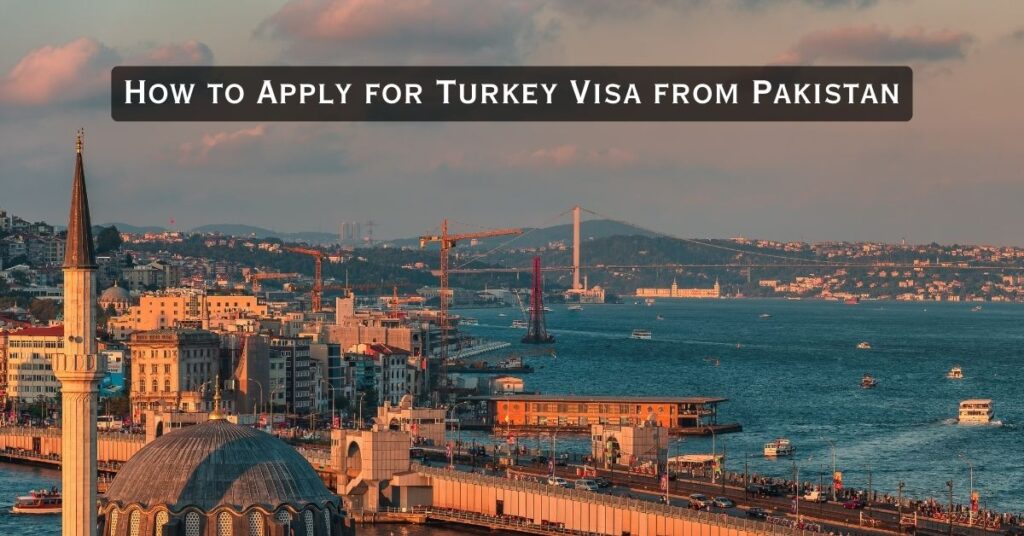 1. Determine the Type of Visa You Need
There are several types of Turkish visas available for Pakistani citizens:
Tourist/Businessperson: This is issued for tourism or business visits.
Official Visa: For official assignments or duties.
Student Visa: For students accepted into Turkish educational institutions.
Work Visa: For those who have secured employment in Turkey.
Cultural, Artistic, Sporting Activities Visa: For participation in these types of events.
Choose the category that best fits your purpose of visit.
2. Required Documents for Turkey Visa
The following are the standard documents you'll need. However, based on your visa type, additional documentation might be required:
Valid Passport: Your passport should be valid for at least 6 months beyond your proposed stay in Turkey.
Visa Application Form: Download the form from the official website of the Turkish Consulate in Pakistan or the nearest Turkish Visa Application Center. Fill out the form accurately and completely.
Passport-size Photos: Typically, two recent photos are required. Ensure they match the specifications mentioned by the consulate.
Proof of Reservation: A confirmed flight itinerary and hotel booking or an invitation letter from a host in Turkey.
Travel Insurance: Valid for your duration of stay in Turkey.
Proof of Financial Stability: This can be bank statements, employment letters, or any other document proving you can financially support yourself during your stay.
Visa Fee: This can vary based on visa type and duration.
3. Visa Application Process
1. Online Pre-application: Start by visiting the official website of the Turkish Consulate in Pakistan. Here, you'll find the electronic visa application system. Complete the pre-application, print it, and keep it with other supporting documents.
2. Book an Appointment: Schedule an appointment at the Turkish Visa Application Center in Pakistan for the submission of your documents. Ensure you book your appointment well in advance, especially during peak travel seasons, to secure a slot that fits your travel plans.
3. Attend the Appointment: Arrive on time and ensure you have all the necessary documents with you. Be prepared for a short interview where you might be asked about your travel plans, finances, and connections to both Pakistan and Turkey. Answer honestly and confidently.
4. Pay the Visa Fee: The fee varies depending on the visa type. Ensure you've checked the exact amount and payment method in advance.
5. Wait for Approval: Once you've submitted all required documents and paid the visa fee, your application will be processed. This can take a few days to several weeks, depending on the visa type and application volume.
6. Visa Approval or Rejection: If approved, you'll receive your visa stamped in your passport. In case of denial, the consulate typically provides a reason. If you believe there was an error, or if circumstances change, you can apply again.
Read Also: How to Apply for UK Study Visa from Pakistan?
4. Things to Remember
Always provide truthful information. Any discrepancy can lead to visa denial or complications during your stay in Turkey.
Keep copies of all your documents. It's helpful to have backups in case of lost documents or for future reference.
Pay attention to the validity of your visa. Overstaying can result in fines, deportation, or bans from future travel to Turkey.
Always check for the most recent updates and requirements on the official Turkish consulate or embassy website. Visa policies can change, and it's crucial to be updated.
5. Enjoying Turkey
Once you have your visa, prepare to immerse yourself in all Turkey has to offer. Whether you're visiting Istanbul's historic sites, enjoying the beaches of Antalya, exploring the unique landscapes of Cappadocia, or conducting business in bustling cities, Turkey promises an enriching experience.
FAQs: Applying for a Turkey Visa from Pakistan
Do all Pakistani citizens need a visa to enter Turkey?
Yes, Pakistani citizens are required to obtain a visa before traveling to Turkey. The type of visa needed depends on the purpose and duration of the stay.
How long does it take to process a Turkish visa for Pakistani citizens?
The processing time can vary, but generally, it takes a few days to several weeks. It's always advisable to apply well in advance of your intended travel date.
Is the visa fee refundable if my application is denied?
No, the visa fee is non-refundable regardless of the outcome of the application.
Can I work in Turkey on a tourist visa?
No, a tourist visa does not grant permission to work in Turkey. If you intend to work, you should apply for a work visa.
I have a valid Schengen visa; can I use it to enter Turkey?
No, a Schengen visa is not valid for entry into Turkey. You will need a separate Turkish visa.
Conclusion
Applying for a Turkish visa from Pakistan is a straightforward process, provided you have all the necessary documentation and follow the guidelines. Always double-check the requirements, be honest in your application, and plan ahead. Once all formalities are done, Turkey's rich culture, history, and natural beauty await you. Safe travels!