In today's digital age, mobile phones have become an essential part of our lives, enabling us to stay connected, access information, and communicate effortlessly. However, there are situations where you might need to block your SIM card, such as loss, theft, or the need to temporarily suspend services. If you're a Zong user and find yourself in such a predicament, worry not! This guide will walk you through the steps of how to block Zong SIM and ensure the safety of your personal information.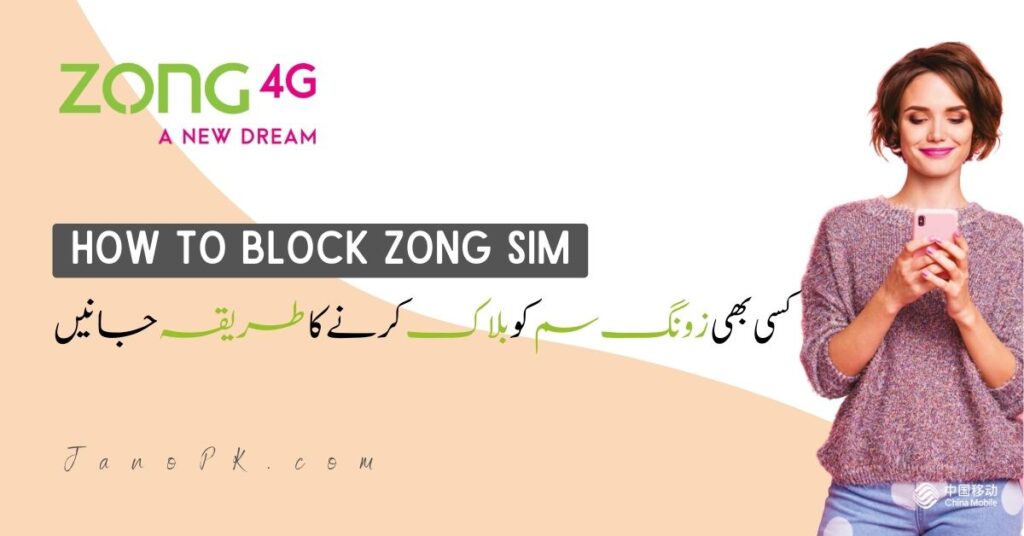 Step 1: Keep Calm and Gather Information
Losing a mobile phone or having it stolen can be distressing, but it's crucial to remain calm and take immediate action. The first step is to gather all necessary information related to your SIM card and account. Keep the following details handy:
Zong SIM Number: You can find your SIM number on the back of the SIM card or on the SIM card holder.
CNIC Number: Your Computerized National Identity Card (CNIC) number, which is linked to your Zong SIM and account.
IMEI Number: The International Mobile Equipment Identity (IMEI) number of your phone. You can find it by dialing *#06# on your phone's keypad.
Step 2: Contact Zong Customer Care
Once you have your information ready, it's time to contact Zong's customer care. You have several options for reaching out to them:
Call Zong Helpline: Dial 310 from your Zong number or 111-222-111 from any other network.
Visit a Zong Franchise: If you prefer face-to-face interaction, you can visit a nearby Zong service center to report the loss or theft of your Zong Number.
Online Chat: Visit Zong's official website and look for the online chat option to connect with a customer care representative.
Step 3: Inform Zong Customer Care
When you connect with a Zong customer care representative, provide them with the required details, including your SIM number, CNIC number, and IMEI number. Inform them about the loss or theft of your SIM card and request them to block it immediately. This action will prevent unauthorized use of your SIM card and protect your personal data.
Step 4: Verify Your Identity
To ensure the security of your account, Zong's customer care will likely ask you to verify your identity. This step is vital to prevent unauthorized individuals from blocking your SIM without your consent. Be prepared to provide accurate information to confirm your identity.
Step 5: Obtain a Blocking Request Number
After verifying your identity, the customer care representative will provide you with a blocking request number. This number serves as a reference for your SIM card blocking request and can be used for any follow-up queries or concerns.
Step 6: Reissue a New SIM Card
While blocking your lost or stolen SIM card is essential, you'll also need a replacement SIM to continue using Zong's services. To obtain a new SIM card:
Visit a Zong Service Center: Head to the nearest Zong service center with your CNIC and the blocking request number provided by customer care.
SIM Replacement Fee: There might be a nominal fee associated with issuing a replacement SIM card. Inquire about the fee at the service center.
Biometric Verification: Zong, like other telecom providers, requires biometric verification for issuing SIM cards. Complete the biometric verification process at the service center.
Step 7: Insert and Activate the New SIM Card
Once you have the new SIM card, insert it into your phone. You will receive a confirmation message with instructions on how to activate your new SIM card. Follow the provided steps to ensure a seamless transition to the new SIM.
Conclusion
Losing a mobile phone or having it stolen can be a stressful experience, but taking swift action to block your SIM card can mitigate potential risks and protect your personal information. Zong's customer care is available to assist you in this process, ensuring a smooth transition to a new SIM card while safeguarding your account.
Remember, staying calm and organized is crucial during this process. By following the steps outlined in this guide, you can effectively block your Zong SIM card, obtain a replacement, and resume using your mobile services with confidence.