In today's digital age, personalization is key. We customize our phone wallpapers, ringtones, and even our app themes. But, with Ufone's UTunes, the personalization doesn't stop at just what you hear and see; it extends to what your callers hear too. UTunes has offered millions the chance to greet callers with their favorite tunes or even a melody of their own creation. But like all services, there comes a time when you might want to unsubscribe, and that's what we're here to help with. Here's a comprehensive guide on how to unsubscribe UTunes – the Ufone caller tune service.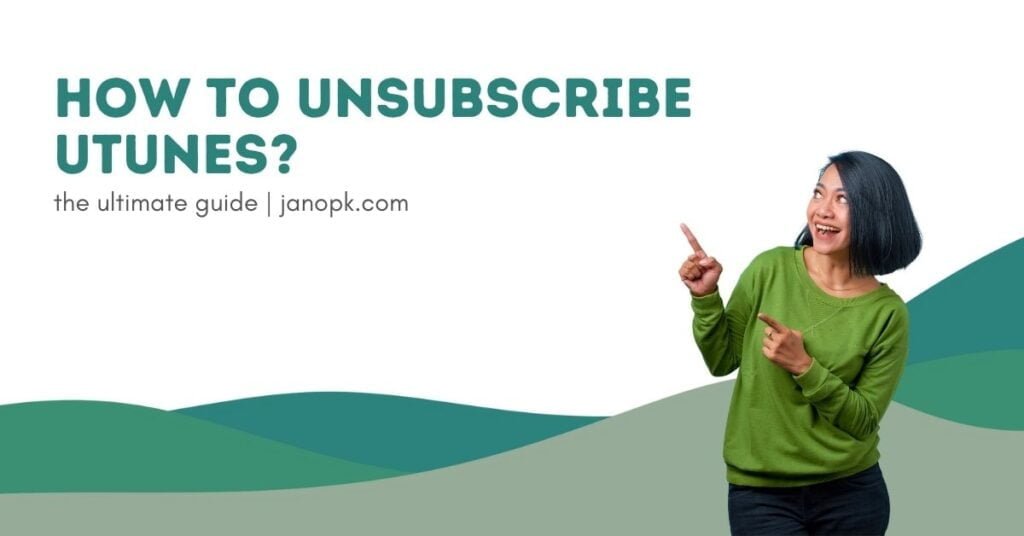 UTunes: A Brief Overview
Before we delve into the unsubscription process, let's revisit what UTunes offers.
Ufone's UTunes provides users with a unique caller experience, letting callers hear their favorite songs or even a tune crafted in their own voice. With its vast content library, users have the privilege of switching up their tunes and even opting for a weekly package that automatically updates their chosen tune.
The Charges: What You Need to Know
Subscription Charge: For prepaid users, the charge is Rs 2.0/day, while postpaid users are billed Rs 1.67/day.
Call Charges to 6666: Prepaid users will be charged Rs. 2.99+tax, and postpaid users Rs. 2.5+tax.
But Why Unsubscribe?
The reasons to unsubscribe from UTunes can be as diverse as the service's tune library. Some might find they no longer want to pay the subscription fees, while others might simply prefer the classic ring. Regardless of the reason, unsubscribing should be straightforward and hassle-free.
Here's How to Unsubscribe UTunes
Via SMS: The most straightforward method to end your UTunes subscription is via SMS. All you need to do is type "UNSUB" and send it to 6666.
Other UTunes Features to Explore Before You Go
Before you finalize your decision, let's touch upon some other fantastic features UTunes offers. Knowing all the features might make you reconsider, or at least it'll ensure you're making an informed choice.
One-Key Copy & Activation: Ever been on a call and found yourself humming along to a friend's UTune? With the one-key copy feature, you can press * while listening, activating the UTunes service, and copying the tune.
Purchasing New UTunes: Keeping your UTunes fresh is easy. If you fancy a change, just SMS the specific "UTune Code" of your chosen song to 6666.
Personalized UTunes: This feature allows you to create a UTune in your own voice. It's a delightful way of surprising callers with a special message or a snippet of your singing.
Read Also: How to unsubscribe from Telenor Smart Tune?
Ufone Caller Tune Codes
Ufone's UTunes service lets you personalize your caller tune, allowing your callers to listen to your chosen song or melody rather than the conventional ringing tone. To make the most of this service, you'll need specific codes corresponding to your favorite songs. Here are some Ufone codes you can use:
| UTune | Code |
| --- | --- |
| Faslon Ko Takalluf Hai | 428032 |
| Mohammad Ka Roza | 285685 |
| Durood e Ibrahimi | 167601 |
| Sura-e-Ikhlas | 393 |
| Sura-e-Rahman | 343 |
To set any of these as your UTune, simply SMS the desired "UTune Code" to 6666. For example, if you want to set 'Tum Hi Ho' as your UTune, SMS "01234" to 6666.
If you're looking for more specific Utunes, Ufone often updates its UTunes library, so it's a good idea to visit their official website or contact Ufone's customer service for the latest list of codes.
FAQs
How much does UTunes cost?
For prepaid Ufone users, the UTunes service costs Rs 2.0/day, while postpaid users are charged Rs 1.67/day. Please note that additional charges apply for other associated services, like calling the UTunes helpline.
Can I change my UTune to a different song?
Absolutely! If you want to change your current UTune, just send an SMS with the desired "UTune Code" to 6666.
If I unsubscribe, can I resubscribe later?
Yes, you can. If you choose to unsubscribe now and later decide you miss the service, simply follow the subscription process again.
I'm having trouble unsubscribing. What should I do?
If you face any issues, reach out to Ufone's customer support. Dialing 333 from your Ufone number will connect you to a representative who can guide you through the process.
The Bottom Line
Ufone's UTunes service, with its vast library and customization options, has been a hit among many users. However, like all services, it might not be everyone's cup of tea indefinitely. If you've decided it's time to revert to the standard ring, unsubscribing is a simple process. And remember, just because you're saying goodbye to UTunes now doesn't mean you can't come back if you change your mind in the future.
To those continuing with UTunes, enjoy the melodies, and to those departing, may your phone ring with all the classic clarity you desire!