Traveling is a passion for many, and Thailand, with its exotic beaches, rich culture, and sumptuous cuisine, has become a prime destination for many Pakistani travelers. If you're planning to visit this beautiful Southeast Asian gem, you'll likely need a visa. In this guide, we'll walk you through the entire process of how to apply for Thailand visit visa from Pakistan.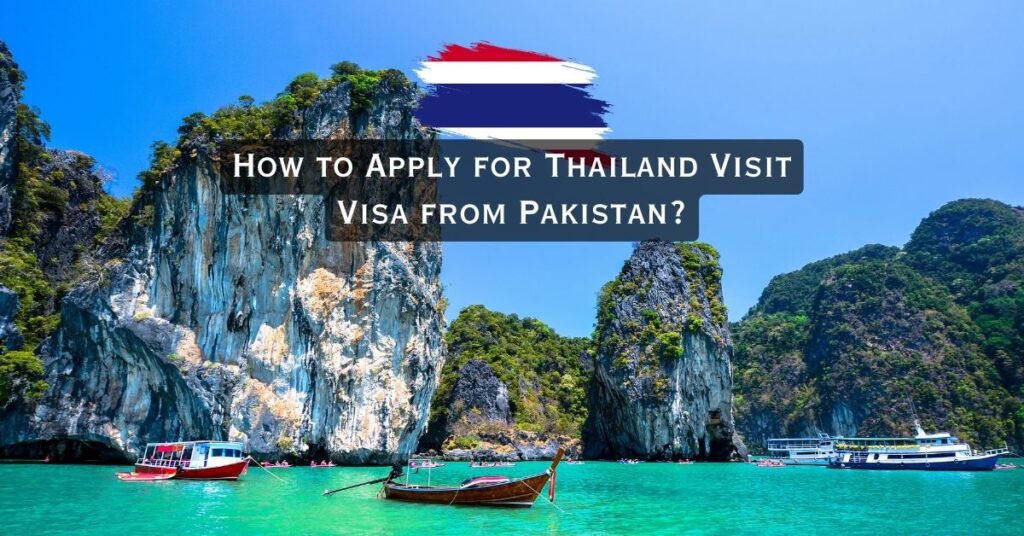 1. Determine the Type of Visa You Need
Tourist Visa (Single/Multiple Entries): This visa is designed for travelers who wish to visit Thailand for leisure, vacation, or to meet friends and family. Typically, a single-entry tourist visa allows a stay of up to 60 days, while a multiple-entry visa allows multiple trips within a 6-month period, with each trip lasting up to 60 days.
Transit Visa: If you're merely passing through Thailand en route to a third country, you'll need a transit visa. This allows for a stay of up to 30 days.
Other Visas: There are also visas for business purposes, education, retirement, and other specific reasons. For the purpose of this guide, we will focus mainly on the tourist visa.
2. Gather Necessary Documentation
To apply for a Thailand tourist visa from Pakistan, you'll need the following documents:
Passport: Your passport should be valid for at least 6 months from your planned date of entry into Thailand and must have at least one blank page.
Visa Application Form: This form can be downloaded from the website of the Royal Thai Embassy in Islamabad or the Royal Thai Consulate in Karachi.
Recent Photographs: Typically, two passport-sized photos with a white background are required. Ensure they are recent (taken within the last six months).
Travel Itinerary: Proof of your travel details, including flight tickets showing entry and exit from Thailand.
Accommodation Proof: Details of your confirmed hotel reservation or accommodation in Thailand.
Financial Proof: Evidence that shows you can sustain yourself during your visit. This can be in the form of bank statements or a letter from the bank verifying you have sufficient funds. The general guideline is to prove you have at least 20,000 Thai Baht for an individual traveler or 40,000 Thai Baht for a family.
Employment or Business Proof: If employed, an employment letter. If self-employed, a copy of your business registration.
Visa Fee: The fee can vary depending on the type and duration of the visa. Always check the current fee from the official Thai Embassy or Consulate website.
Other documents: Depending on specific circumstances, additional documents like invitation letters or medical certificates might be needed.
3. Submit Your Application
Applications for Thailand visas in Pakistan can be submitted at:
The Royal Thai Embassy in Islamabad: This serves applicants residing in Islamabad, Punjab, and Khyber Pakhtunkhwa.
The Royal Thai Consulate in Karachi: This caters to applicants from Sindh and Baluchistan.
Always check the working hours and holidays of the embassy or consulate before visiting.
Want to visit Indonesia? Check out the complete guide here!
4. Attend the Interview
In some cases, you might be called for an interview. Make sure to attend it on the given date and time. During the interview, be honest and provide consistent information that matches your application.
5. Track & Collect Your Visa
After submission, you can track the status of your application through the respective embassy or consulate. Once approved, you will be informed to collect your passport with the visa stamp. Ensure you check the details on the visa for any discrepancies.
6. Plan Your Trip & Abide by the Visa Rules
With your visa in hand, you can now finalize your travel plans. Remember, abide by the rules specified on your visa. Overstaying or violations can lead to penalties and may affect future visa applications.
Tips for a Successful Visa Application
Be Thorough: Ensure all your documents are complete and organized. Incomplete applications can lead to delays or rejections.
Be Honest: Always provide accurate and truthful information in your application and during any interviews.
Plan Ahead: Apply for your visa well in advance of your intended travel date to account for any unforeseen delays.
Stay Updated: Visa policies can change. Regularly check the Royal Thai Embassy or Consulate website for the latest information.
Thailand is waiting to mesmerize you with its vibrant cities, serene beaches, and rich history. Make sure your visa application process is smooth by following this comprehensive guide. Safe travels and enjoy the Land of Smiles!