Has it ever happened to you that you forgot to turn off data mode on your phone & then in minutes, your mobile account was empty of balance? This happens to most of us. You may call your forgetfulness the reason that you are out of balance. Or multi-tasking that caused the mistake.
But like a solution to every problem, there is a solution to this problem as well. If you are a Jazz user, the network provides two effective solutions to this problem.
Jazz has been providing internet, messaging, and quality call services to the Pakistani public for a long time now. It believes in ease of communication and thus is committed to providing and introducing services each day that enhance and simplify daily internet, call, and SMS use. Jazz Balance Save Code Service and Jazz Doosra Balance Account are examples of these endeavors.
How to Save Balance Using the Jazz Balance Save Code?
In case you are tired of the fact that your mobile account goes out of balance without any intimation, here's the way to stop it right away.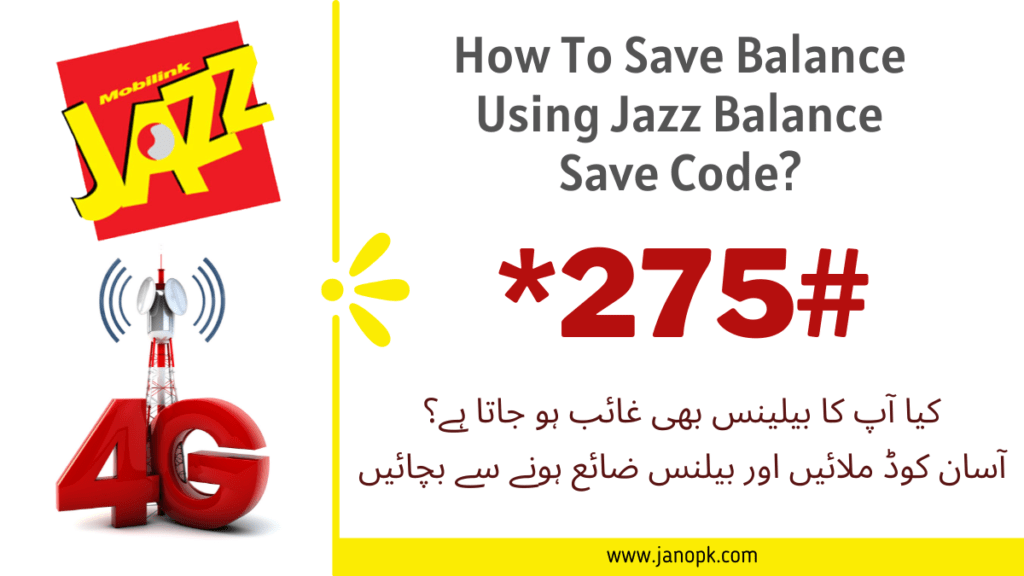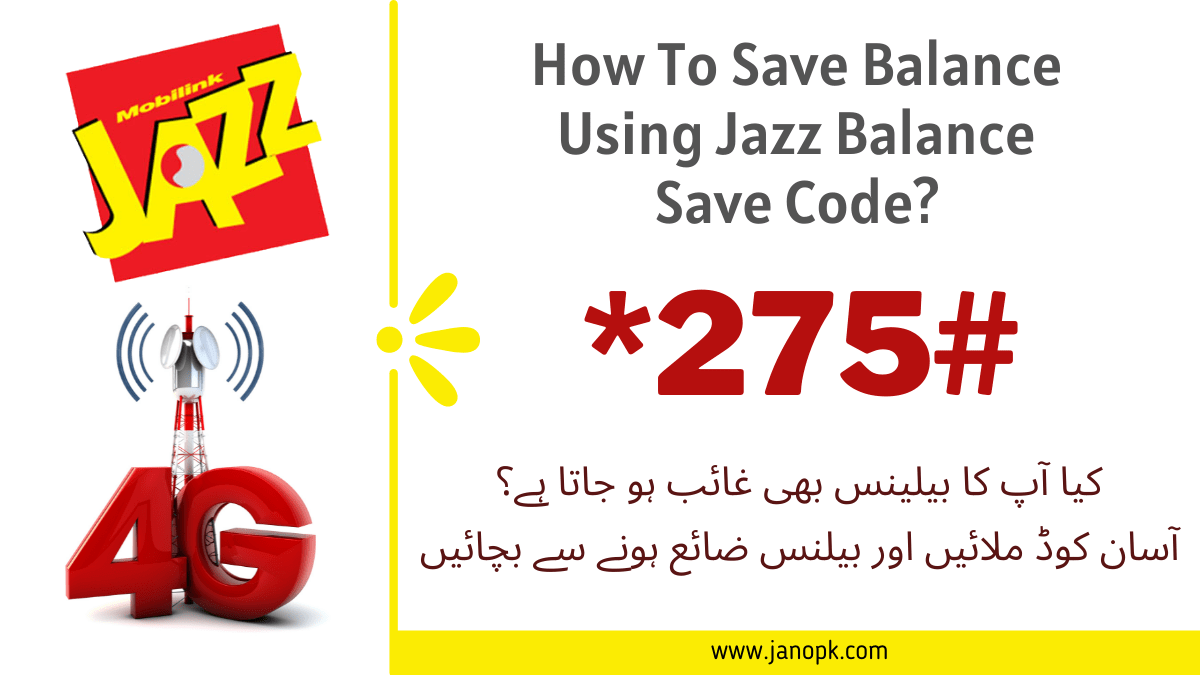 The Jazz Balance Save Code service is completely free of cost and here are the steps to subscribe to it:
Open the dialer of your phone.
Dial *275#.
As soon as you successfully subscribe to the service, you will receive a confirmation message.
For unsubscribing to the save balance service, dial *275*4# on your phone dialer. You will receive a message confirming your unsubscription.
Read Also: How To Share Jazz Balance?
How Does Jazz Save Code Service Work?
A user would generally lose balance if they use the internet on Jazz without any internet package. We know that MB rates are quite high, and using the internet on any network without an internet bundle would be costly.
When you subscribe to the Jazz Save Balance service, what happens is that the internet is turned off or the balance is locked when you run out of MBs on your data package or when you accidentally turn the data mode on. Resultantly, your phone uses no additional MBs and thus you save your balance from wastage.
Another Way to Save Balance: Jazz Doosra Balance Service
Not only is the Jazz Save Code service but there is also another effective way to save balance if you are a user of Jazz or Warid. This service is called 'Jazz Doosra Balance' and even though it is also a good way to save balance, you would have to pay some price. There are some minimal subscription charges as well as some taxes.
Read Also: How To Check Jazz Balance?
How Does Jazz Doosra Balance Service Work?
Your balance is lost when it is in your account. Right?
What if it is not in your main account and in some other account?
This is how the Jazz Doosra Balance service works. By using this service, you create another balance account on your Jazz number. Then, you transfer the balance from your main account to the second account. In this way, your balance remains safe from the unnotified deduction.
Afterward, you could transfer the balance into your main account whenever you want to. Depending on your choice, you could transfer as much amount as you desire.
Read Also: How to hide online status on WhatsApp?
Pricing/Charges of the Jazz Doosra Balance Service
As mentioned earlier, this service is not free of cost. For transferring the balance to your main account each time, you could be charged PKR 1 with some additional tax.
How to Subscribe to the Jazz Doosra Balance Service?
Dial *869# on the dialer of your phone to subscribe to the service. You will then receive a confirmation message of a successful subscription.
When you dial the code again, a box with the following information will appear:
Aapka secret balance Rs.___ hai. Raqam ko main account me muntaqil kerne k charges Rs. 1+ tax honge
Raqam daalein
Raqam nikalein
Service khatam karen
You could choose from the options.
To unsubscribe from the offer, you would have to dial *869*3#. Check out the Jazz Sim Lagao Offer if you have not using the SIM for a long time.
Conclusion
We all feel frustrated when we do not intend to use balance but despite this, it is deducted from our account. In this article, we explained two solutions to solve this problem if you are a Jazz network user. We explained how to preserve balance using the Jazz Balance Save Code and the Jazz Doosra balance services.