Tapmad is a popular video-on-demand streaming service that allows users to access a wide variety of content, including movies, TV shows, dramas, and more. While many users enjoy the convenience of Tapmad's offerings, some may find themselves wanting to unsubscribe from the service for various reasons. Whether it's due to budget constraints, limited time for entertainment, or simply exploring other options, canceling your Tapmad subscription is a straightforward process. In this blog post, we will provide you with a step-by-step guide on how to unsubscribe from Tapmad with ease.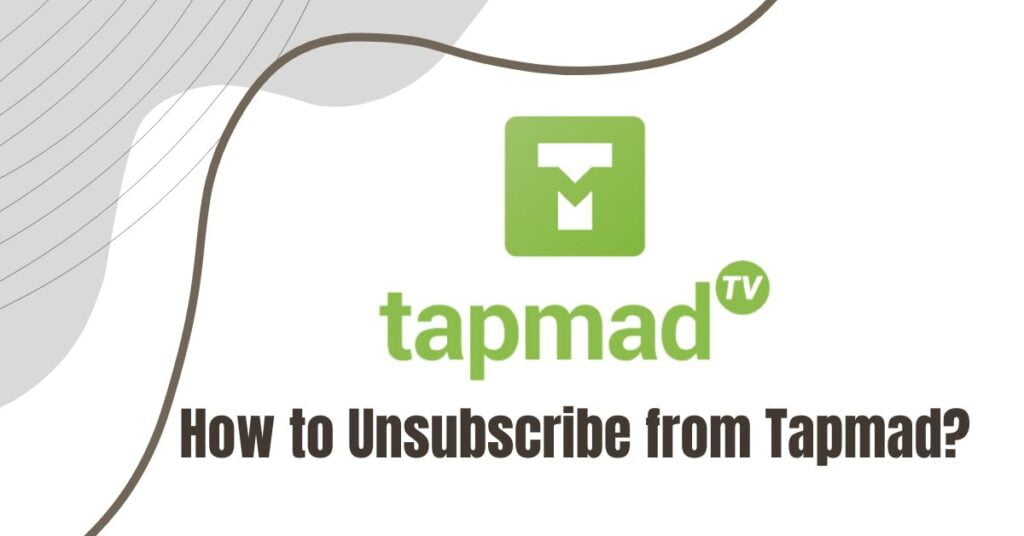 Step 1: Assess Your Subscription
Before proceeding with the cancellation process, take a moment to review your subscription details. Ensure that you have identified the account used to sign up for Tapmad, as you will need this information during the cancellation process. You should also check if you are under a free trial period or a paid subscription, as this will determine any potential charges upon cancellation.
Step 2: Log into Your Tapmad Account
To initiate the cancellation process, you need to log into your Tapmad account. Visit the Tapmad website or open the Tapmad mobile app and enter your login credentials (email address and password). If you have forgotten your password, you can use the "Forgot Password" feature to reset it.
Step 3: Navigate to Account Settings
Once you have successfully logged in, navigate to your account settings. This section is typically accessible from the user profile icon, located at the top-right corner of the Tapmad website or app. Click on "Account Settings" or a similar option to proceed.
Step 4: Locate the Subscription Details
Within the Account Settings section, you should find your subscription details, including information about your current subscription plan, billing cycle, and the date of your next billing. This is essential to ensure you are unsubscribing from the correct account.
Step 5: Cancel Your Subscription
Look for the option to "Cancel Subscription" or "Unsubscribe" within the Subscription Details. Click on this option to proceed with the cancellation process. Tapmad may prompt you with a confirmation dialog, asking if you are sure about canceling your subscription. Confirm your decision to proceed.
Read Also: How to Unsubscribe Zong Package?
Step 6: Provide Cancellation Feedback (Optional)
Tapmad might offer you the opportunity to provide feedback on why you are canceling your subscription. While this step is optional, your feedback could help the service improve its offerings. Feel free to share your thoughts if you wish.
Step 7: Confirmation and Next Steps
Upon successful cancellation, Tapmad should display a confirmation message or send you an email confirming the cancellation of your subscription. Take a screenshot of this confirmation or save the email for your records.
Step 8: Check for Billing Cycles
After canceling your subscription, it's essential to verify that you won't be billed for the upcoming billing cycle. Some subscription services have specific billing cutoff dates, meaning you might still have access to the service until the next billing date, even after canceling.
Step 9: Confirm Cancellation
On the day your subscription would have been renewed, verify that you are no longer being charged. Check your credit card or bank statement to ensure there are no unauthorized charges from Tapmad. If you encounter any issues, contact Tapmad's customer support immediately to resolve the matter.
Conclusion
Unsubscribing from Tapmad is a simple process that only requires a few steps to complete. By following this comprehensive guide, you can ensure a smooth cancellation experience without any unnecessary charges. Remember to assess your subscription, log into your account, navigate to the account settings, locate your subscription details, and proceed with the cancellation. Providing feedback is optional but appreciated. Lastly, confirm the cancellation and check for any potential billing issues. Armed with this knowledge, you can now confidently unsubscribe from Tapmad and explore other entertainment options that better suit your preferences and needs.