The process of how to apply for UK visa from Pakistan can seem challenging, especially if you're unfamiliar with the system and its requirements. However, by understanding each step and being prepared with all the necessary documents, the process can be much smoother. This article provides a step-by-step guide to help Pakistani nationals navigate the UK visa application process.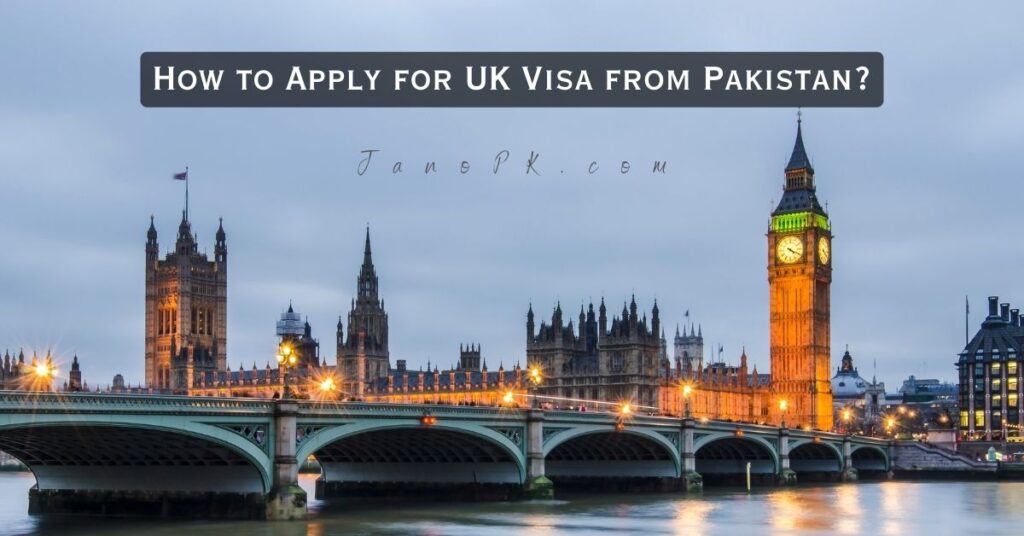 1. Determine the Type of Visa You Need
The UK offers various visa types, depending on the purpose of your visit. The most common categories include:
Tourist/Visitor Visa
Study Visa
Work Visa
Family Visa
Settlement Visa
Identify the visa type you need as the requirements and documentation differ for each category.
2. Create an Account on the UK Visa & Immigration Website
Visit the official UK Visa & Immigration website to create an account. This platform, known as the Visa4UK system, allows you to fill out the visa application form, book an appointment, and make the necessary payments.
3. Complete the Online Application
Fill out the visa application form specific to your visa type. Make sure you provide accurate information and double-check all entries. Inconsistencies or errors can result in visa refusals or delays.
4. Pay the Application Fee
The fee varies depending on the visa category. After submitting the form, you will be prompted to pay the fee online. Make sure you have a valid credit or debit card to facilitate this payment.
5. Schedule a Biometrics Appointment
After payment, you'll need to book an appointment at your nearest visa application center (VAC) for your biometric data (fingerprints and photograph) to be taken. In Pakistan, the main VACs are located in Karachi, Lahore, and Islamabad.
6. Gather Required Documents:
Prepare the following documents, though the specifics may vary based on the visa type:
A valid passport with at least one blank page.
A passport-sized color photograph meeting the UK visa photo requirements.
Details of your travel itinerary, including accommodation and travel bookings.
Proof of funds, such as bank statements or a letter from a sponsor.
For student visas, a Confirmation of Acceptance for Studies (CAS) from the educational institution in the UK.
For work visas, a Certificate of Sponsorship from your UK employer.
Any other documentation relevant to your visa category, such as relationship proof for family visas.
Read Also: How to apply for Canada Visa from Pakistan?
7. Attend the Biometrics Appointment
Arrive at the VAC on time.
Bring your appointment confirmation, passport, and a passport-sized photograph.
Your biometric data will be taken, and you will also submit your visa application and supporting documents.
8. Track Your Application
After your biometrics appointment, your documents will be sent to the UK Visa & Immigration office for processing. You can track the status of your application online through your Visa4UK account.
9. Collect Your Passport and Decision
Once your application has been processed, you will receive a notification. You can either collect your passport in person from the VAC or opt for courier delivery. Along with your passport, you will receive a decision on your visa application.
10. Understand the Decision
If your visa is approved, you will find a visa sticker or vignette in your passport. Make sure the details on the visa are correct. If your application is refused, you'll receive a refusal notice explaining the reasons. Depending on the reasons for refusal, you might be able to appeal or reapply.
Tips for a Successful UK Visa Application from Pakistan
Start your application well in advance to account for any unforeseen delays.
Ensure all your documents are genuine and up-to-date. Submitting fraudulent documents can result in visa bans.
For any visa category, show ties to Pakistan to prove you will return after your visit.
Provide detailed evidence of your finances. The UK immigration officers must be convinced that you can support yourself during your stay without accessing public funds.
If applying for a tourist visa, have a clear itinerary showing your intentions during your stay.
In conclusion, while the process of applying for a UK visa from Pakistan may seem daunting, with proper preparation and attention to detail, it becomes manageable. Always ensure that you provide accurate information and the necessary documentation to increase your chances of a successful application. Safe travels!