Now, with the new NADRA (National Database and Registration Authority) online system, you can easily renew your CNIC anywhere anytime. All you need is a cell phone or computer and an internet connection. What is the procedure for online renewal? How much is the fee? How long does each application category take? Answers to all these queries will be discussed in this article.
Let's take a look!
How to Renew Your CNIC Online
Below, we have listed 6 easy steps to renew your CNIC online. Carefully read each one and follow accordingly.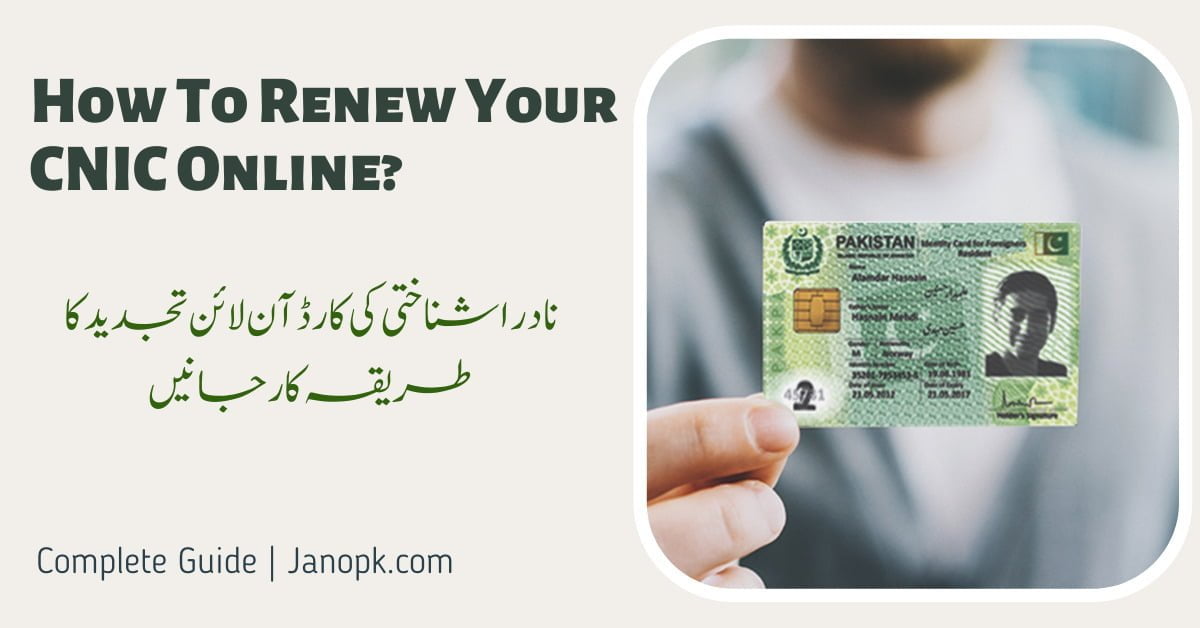 If you are looking for how to renew your CNIC online then, this article is for you. We have discussed 6 easy steps for the renewal of your CNIC.
1. Visit The Online Portal
Firstly, you will have to visit the NADRA Online Portal.
On the homepage, you will see an Apply Now / Log in button. Click on it.
2. Sign In or Create an Account
Once you click on that button, another page will open. Now on this page, you will see two options. First, Register an Account, and second, log in with an Existing Account. If you already have an account then, simply log in to your account. If you don't have an account, then create one with the Register an Account option.
After logging in or creating an account, you will see many options on the screen. Find and click on Online CNIC. Right after a few seconds, you will see many options again on your screen. Now, choose the My CNIC Has Expired option and then click on Start New Application.
3. The Application Form
After clicking Start New Application, a form will open on your screen.
This form is self-explanatory. Hence, you will easily understand the requirements. Enter all the Required Credentials in the fields correctly and carefully.
4. Enter the Address for the Delivery of CNIC
This is the most important step in the whole application. In this step, you will enter the Postal Address where you want the delivery of your new CNIC.
So, enter the correct address for the delivery of your CNIC.
5. Online Payment of Renewal Fee
After providing the Delivery Address, you must pay the renewal fee for your CNIC. You can simply pay it using your Debit or Credit Card.
Below, we have listed the Renewal Fee Amount and The Processing Time for each type of application.
Normal CNIC
The Normal Application takes approximately 30 days and 400 PKR.
While the Urgent Application may take anywhere around 20 days and 1150 PKR.
However, the Executive Application takes nearly 10 days and a whopping amount of 2150 PKR.
Smart CNIC
Regular Application will cost you 750 PKR and it will take around 30 days.
On the other hand, the Urgent Application will be 1500 PKR and it may take 20 days.
Lastly, the Executive Application takes only 10 days but it will cost you 2500 PKR.
6. Upload Your Documents
Finally, scan all the required documents with CamScanner or any other scanning app. Upload them with your Application with the given option. Also, you will have to download a FingerPrint Form, complete it according to NADRA instructions, and upload it with your application. 
Here are some official guidelines from NADRA about the fingerprint form.
Read Also: How to check vehicle registration through SMS?
Conclusion
This is the end of your Online CNIC Renewal Application. Soon, you will receive your new CNIC at your doorstep. Hopefully, after reading all the steps, you have learned how to renew your CNIC online in Pakistan.