Sui Southern Gas Company Limited, commonly known as SSGC, is the backbone of gas distribution in southern Pakistan. A leading integrated gas company, SSGC stands out for its commitment to service delivery and modernization, ensuring residents of Sindh and Balochistan get uninterrupted gas supply. But with the growing reliance on digital solutions, how do consumers of SSGC navigate the landscape of online bill checking and payments? If you've ever lost your bill or simply prefer digital modes, this guide on SSGC Duplicate Bill is for you.
SSGC Duplicate Bill: Finding Your Consumer Number
To access the SSGC bill online, the first step is locating your unique 10-digit consumer number. This number is essential as it identifies your connection and account details. But where can you find it?
For those of you who've retained past bills, the number is easily found on any of your previous SSGC Bills. It's a unique identifier given during the installation of your connection. If you can't locate a physical bill, consider contacting SSGC customer service to assist you.
Checking Your SSGC Bill Online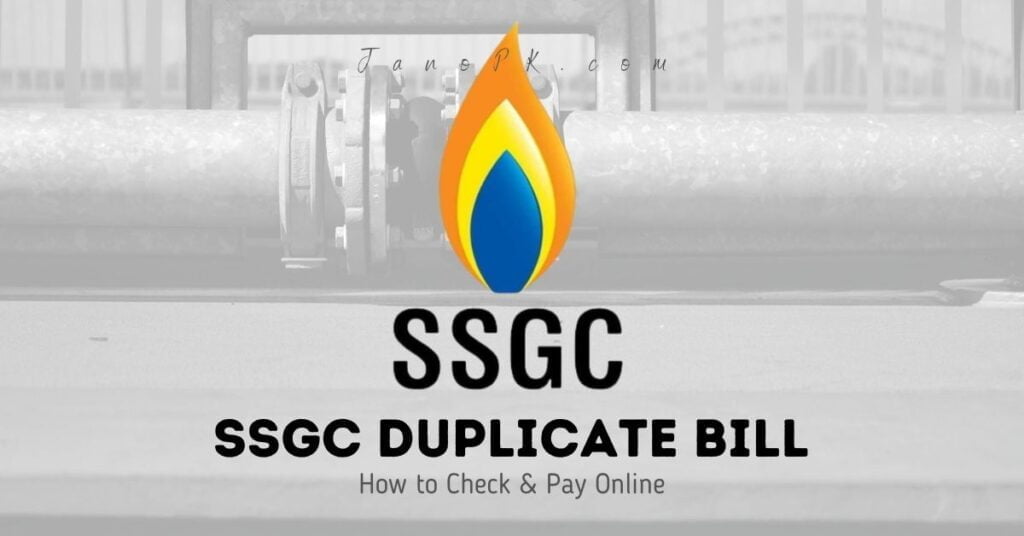 With your consumer number in hand, the process is straightforward:
Visit the official SSGC website. Ensure you're on the official site to avoid any online scams.
Enter your 10-digit consumer number in the designated text box.
Click the search or submit button.
Voila! Your current bill should be displayed on the screen. You can now download, save, or print it for your records.
How to pay SSGC Duplicate Bill Online
Gone are the days when you had to stand in long queues to clear your utility dues. With the digital age, SSGC offers myriad ways to settle your bill:
Mobile Banking: A majority of banks in Pakistan offer mobile banking solutions. Link your account and pay through your banking app.
Integrated Voice Response (IVR): This telephonic service allows for secure bill payments by following voice prompts.
Bank ATMs: Some ATMs provide utility bill payment options.
Retail Stores & Kiosks: While rare, some designated shops and kiosks facilitate bill payments.
Mobile Wallets & Apps: Platforms like Jazz Cash and EasyPay have integrated utility bill payments, making the process even smoother.
Remember, while you have numerous avenues, always ensure you're using a legitimate and secure method to protect your personal and financial information.
Why Online Billing Matters
Beyond mere convenience, online billing is eco-friendly, reducing the need for paper and minimizing carbon footprints associated with delivery. Additionally, it's an efficient way to track, archive, and manage your monthly expenses. With digital records, you can easily compare your monthly consumption, potentially spotting anomalies or trends.
Here is how to check and pay the SNGPL Bill Online!
A Brief Introduction to SSGC
Before diving into the technicalities, it's crucial to understand what SSGC is and why it's essential. Primarily serving Sindh and Balochistan, SSGC is a critical component of Pakistan's gas distribution framework. With the government holding a significant stake in the company, it plays a pivotal role in installing high and low-pressure transmission systems. Over time, SSGC has expanded its service horizons, ensuring consumers not only receive their bills at their doorsteps but also can access them online.
The Rise of Digital Utility Management
In today's fast-paced digital world, consumers prefer immediate access to their bills without the hassle of paper. Recognizing this trend, SSGC stepped up its digital game by introducing the feature of checking bills online. This transition is not just a nod to modernity but a solution for those moments when physical bills go missing, be it due to courier mishaps or personal oversight.
Conclusion
SSGC's commitment to adapting and evolving with technological advancements ensures its consumers receive top-notch services. The ability to check and pay bills online is not just a testament to their dedication but also a nod to the future of utility management.
In an era of digital transformation, embracing online platforms for routine tasks, such as utility bill management, is not just a convenience; it's a necessity. With companies like SSGC leading the way, one can only hope for more integrated and user-friendly solutions in the future.
Remember, while technology makes life easier, always prioritize safety. Use trusted platforms, ensure secure connections, and regularly update your passwords for a seamless and secure online experience.