Jazz is well known for its exciting packages to fulfill the needs of its customers. Now Jazz introduces an amazing offer which is called the jazz daily day bundle. This package has a reasonable subscription fee. After subscribing to this offer, you will have multiple options such as you can call your friends, you can send text messages and can use the internet.
Jazz Daily Day Bundle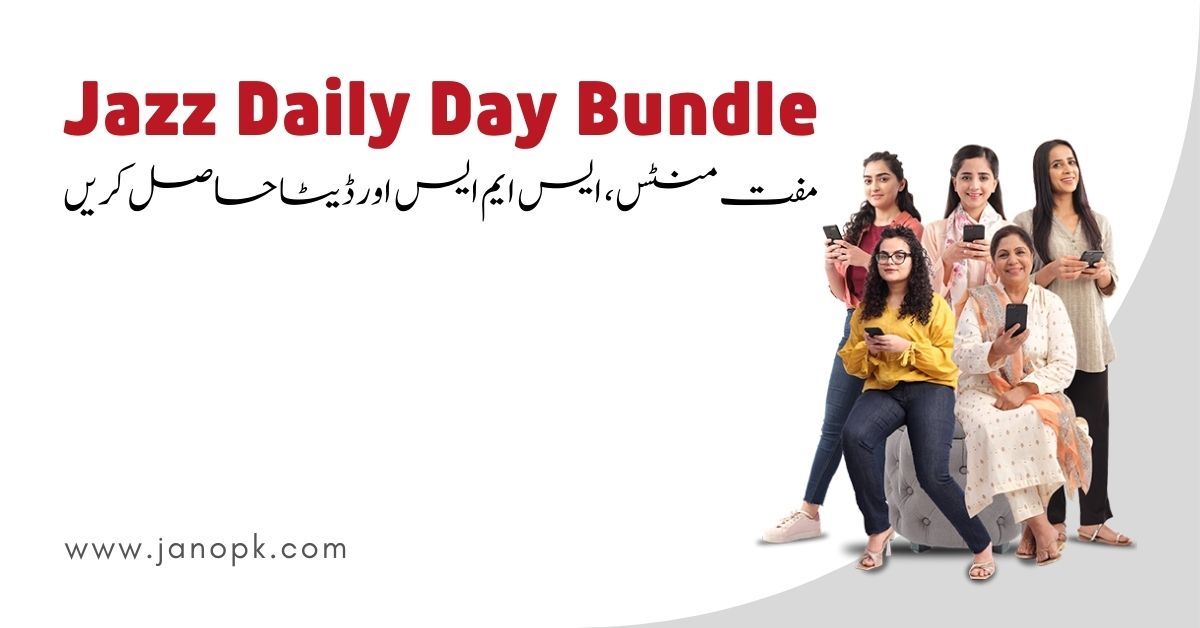 If you have one free day and you want to stay connected with your loved ones, this package is best for you. This offer has enough on-net (Jazz and Warid) minutes to make even long calls. You will get more information about this offer in the following table.
| Item | Description |
| --- | --- |
| On-net Minutes | 300 |
| Off-net Minutes | 0 |
| Internet MBs | 20 |
| SMS | 300 |
| Charges | Rs.17 (Incl.tax) |
| Subscription Code | *340# |
| Unsubscribe Code | *340*4# |
| Validity | 1 Day |
How to subscribe to this bundle
This offer can be subscribed to by dialing *340#. It is important to note that the jazz bundle is valid till midnight on the day when it is subscribed. You can also check the status of this package by dialing *340*2#. If you want to unsubscribe from this Jazz Daily Package, dial *340*4#.
Terms and Conditions
Jazz is subject to change this offer at any time.
The price of this offer can be changed on any occasion.
This package can be subscribed to multiple times in a day.
Call setup charges of PKR 0.15 are applicable on every call.
Jazz has the right to withdraw this offer at any instant.
After crossing the incentives limit, an overage of Rs.2.25/MB will be applied.
Conclusion
This jazz offer gives you multiple options to get in touch with your relatives and family members. However, this package has some limitations as it has no off-net minutes. It has a small number of internet MBs. If you want off-net minutes and a large number of Internet MBs, you can subscribe to other jazz offers.
FAQs
What is the Jazz daily day bundle?
This is a call package that also has internet MBs and SMS. It has  300 on-net minutes, 300 SMS, and 20 internet MBs valid for one day.
How to subscribe to this offer?
To subscribe jazz daily day bundle dial *340#.
What are the charges for this package?
The charges of this offer are PKR 17 (incl.Tax).
How many on-net minutes are there in this offer?
This offer has 300 on-net minutes.
Are there any off-net minutes in this bundle?
This package has no off-net minutes.
How to unsubscribe from this bundle?
To unsubscribe from this offer dial *340*4#.
Are call setup charges applicable to this offer?
Yes, call setup charges of Rs. 0.15 are applicable to this offer.