Losing or misplacing a SIM card can be a concerning experience, especially with the potential risks of misuse or unauthorized access to your personal information. If you are a Ufone subscriber and find yourself in such a situation, it's essential to act promptly to protect your privacy and data. In this comprehensive guide, you will learn how to block Ufone Sim. This step-by-step guide is very important to ensure your mobile security.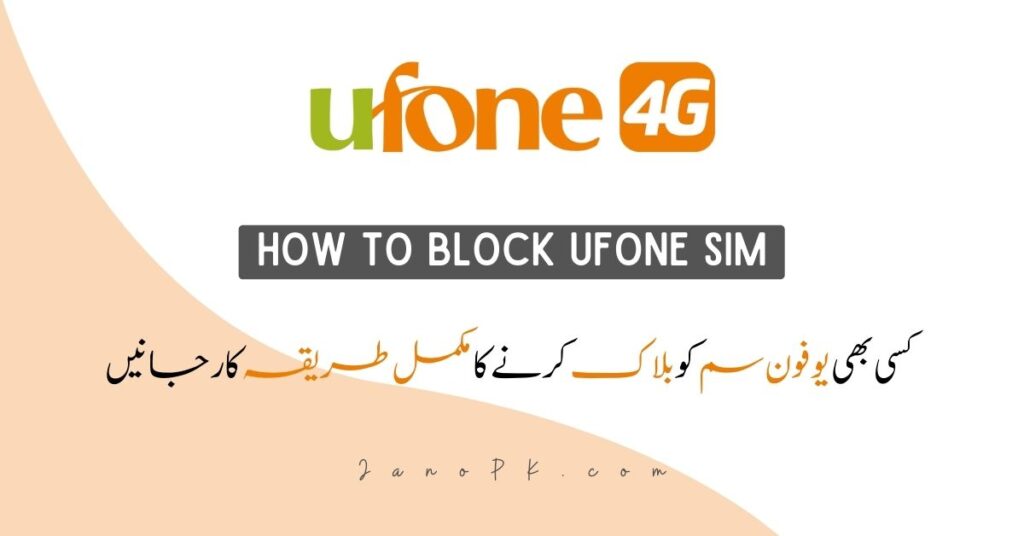 Step 1: Gather Essential Information
Before you proceed to block your Ufone SIM, gather the necessary information to expedite the process. You will need the following details:
Your Ufone SIM number: You can check Ufone Number on the back of your SIM card or by dialing *780*3# from your Ufone Number.
Your CNIC number: This refers to your Computerized National Identity Card number issued by the government of Pakistan.
Step 2: Contact Ufone Customer Support
Ufone provides customer support services through various channels, making it easy for subscribers to block their SIM cards in case of loss or theft. Here's how to contact Ufone customer support:
Dial Ufone Helpline: Call Ufone helpline by dialing 333 from any Ufone number or 033-11-333-100 from any other network. Follow the automated instructions to talk to a customer support representative.
Visit Ufone Customer Service Center: Alternatively, you can visit the nearest Ufone Customer Service Center to request assistance in blocking your SIM.
Step 3: Verify Your Identity
To ensure the security of your account, the Ufone representative will ask you to verify your identity by providing your CNIC number and other personal details associated with the SIM. This step is crucial to prevent unauthorized SIM blocking.
Step 4: Request SIM Blockage
Once your identity is verified, request the customer support representative to block your Ufone SIM immediately. They will guide you through the process and confirm the successful blocking of your SIM.
Read Also: How to Block Telenor SIM?
Step 5: Register a Lost Report
In case of theft or loss of your mobile phone along with the SIM card, it is advisable to file a lost report with the local police station. This step can help track any fraudulent activities associated with your phone or SIM card and aid in recovering them if possible.
Step 6: Check for Alternate Options
While your Ufone SIM is blocked, consider temporary alternatives to stay connected. If you have a spare phone with an active SIM, you can use it during this period. Additionally, most mobile carriers offer temporary replacement SIMs to help you stay in touch until you retrieve your original number.
Step 7: Visit the Nearest Ufone Franchise
After blocking your Ufone SIM, it's essential to visit the nearest Ufone Franchise or Customer Service Center to request a replacement SIM. You will need to provide your CNIC for verification purposes. Ufone will issue you a new SIM card with your existing number once your identity is confirmed.
Step 8: Restore Services on New SIM
Once you receive the replacement SIM, insert it into your phone and restart the device. Ensure that your phone detects the new Ufone SIM and displays the network signal. In most cases, your previous account settings and phone number should be restored automatically.
Step 9: Update Contacts and Apps
With your new Ufone SIM active, it's crucial to update your contacts and applications that might have been associated with your previous SIM. This step ensures seamless communication and uninterrupted services on your new SIM.
Step 10: Secure Your Phone
To prevent future instances of unauthorized access or misuse, take the following security measures:
Enable PIN Lock: Activate a PIN lock or pattern lock on your phone to secure access.
Install Security Apps: Consider installing security apps that offer features like remote data wiping, tracking, and locking in case of theft or loss.
Be Cautious: Avoid sharing personal information with unknown individuals or websites to protect yourself from potential scams.
Conclusion
Losing or misplacing a Ufone SIM can be a distressing experience, but acting swiftly and following the steps mentioned above can help you secure your mobile and personal information effectively. By promptly blocking your SIM and taking necessary precautions, you can safeguard yourself from potential risks and continue enjoying the seamless services provided by Ufone. Remember always to stay vigilant and prioritize mobile security to ensure a safe and hassle-free mobile experience.