Pakistan is a beautiful country with a lot to offer visitors. Whether you're interested in history, culture, or natural beauty, you're sure to find something to love in Pakistan. But before you can start exploring, you need to get there. And that means finding a cheap flight.
In this blog post, you will find out which is the cheapest airline in Pakistan for budget-friendly travel. We'll also discuss some tips for finding cheap flights, so you can save money on your next trip.
The Cheapest Airlines in Pakistan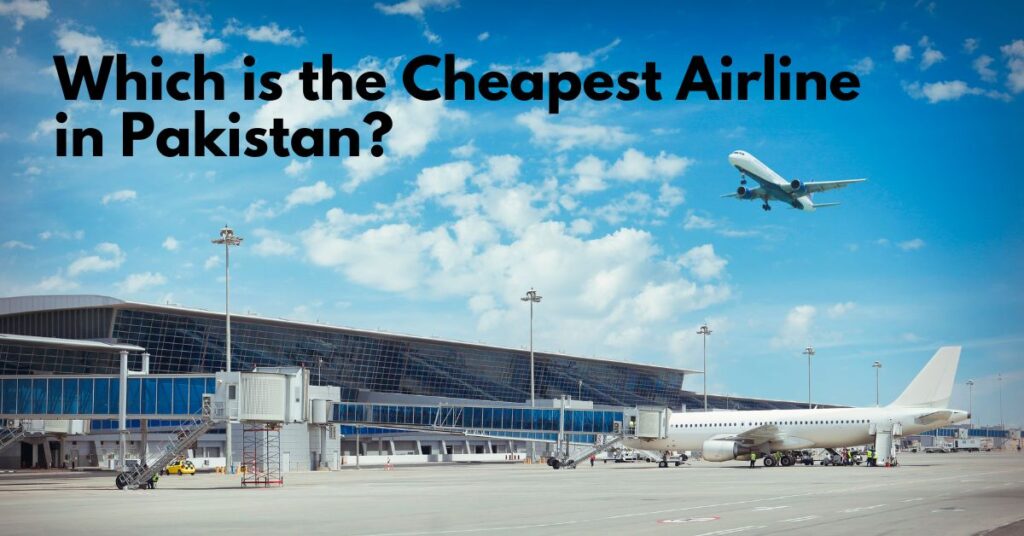 The crown for Pakistan's most budget-friendly airline goes to Air Blue. This cost-effective airline is your golden ticket to major Pakistani cities and even extends its wings to select international locations. Renowned for its wallet-friendly prices and stellar customer service, Air Blue sets the benchmark for affordable air travel in Pakistan.
Let's not forget other contenders in the economical aviation scene:
Serene Air: A rising star offering a blend of affordability and quality.
Air Sial: A regional favorite with a growing reputation.
Fly Jinnah: The newcomer, promising affordable options with no compromise on service.
Your choice of the cheapest carrier might differ based on your route and travel season, so always compare prices to ensure you're grabbing the best deal.
Tips for Finding Cheap Flights in Pakistan
Here are some tips for finding cheap flights in Pakistan:
Book your flight in advance. The earlier you book, the more likely you are to get a good deal.
Be flexible with your travel dates. If you can, avoid traveling during peak season when prices are higher.
Fly during the off-season. Flights are typically cheaper during the shoulder seasons (spring and fall) and the winter.
Consider flying into a smaller airport. Smaller airports often have lower landing fees, which can translate into lower ticket prices.
Look for deals and discounts. Many airlines offer discounts for students, seniors, and members of the military. You can also find deals on websites like Kayak and Skyscanner.
Read Also: How to apply for a Singapore Visa?
How to Save Money on Plane Tickets in Pakistan
In addition to the tips above, here are some other ways to save money on plane tickets in Pakistan:
Use a travel agent. Travel agents can often get you better deals than you can find on your own.
Sign up for email alerts from airlines. Many airlines send out email alerts when they have special offers or discounts.
Join a frequent flyer program. Frequent flyer programs can help you earn free flights or upgrades.
Why Cheap Flights Matter: A Financial Perspective
Affordable airfare is more than just a perk for the budget-conscious traveler; it's a democratizing force in a world where mobility often equals opportunity. Lower flight costs open up the skies to a broader segment of the population, allowing not just for leisure travel but also facilitating vital economic activities. Entrepreneurs can scout new markets, students can access educational resources, and families dispersed across geographies can reunite more easily, all contributing to both personal and communal financial health.
Moreover, the ripple effect of cheap flights extends to local economies. A surge in visitor numbers, triggered by affordable air travel, boosts tourism and local business. Additionally, companies are more inclined to invest in areas that offer cost-effective accessibility, thereby stimulating job creation and economic growth. In essence, cheap flights are not just a personal financial relief; they are a catalyst for broader economic well-being.
FAQs
Is Air Blue the absolute cheapest airline for all routes within Pakistan?
Not necessarily. While Air Blue is renowned for its budget-friendly rates, the cheapest airline can vary based on the route, season, and availability. Always compare prices from different airlines before making your booking to ensure you get the best deal.
Is it safe to travel with low-cost airlines in Pakistan?
Safety standards for airlines are regulated by aviation authorities and are typically consistent across both budget and full-service airlines. While the in-flight amenities might be limited to low-cost carriers, safety measures are generally not compromised.
What are the drawbacks of opting for the cheapest airlines?
While you'll save on ticket costs, budget airlines may charge for additional services like checked baggage, in-flight meals, or seat selection. Always read the fine print and factor in these additional costs when comparing prices.
Conclusion
Achieving budget-friendly travel in Pakistan is more than a pipe dream—it's a reality that's well within your grasp. Implement the expert advice and strategies laid out in this guide, and you'll be well on your way to making your Pakistani adventure an affordable one.
Do you have more questions or need further clarification? Feel free to drop a comment below. Your cost-effective journey to Pakistan awaits!