Jazz, previously known as Mobilink, stands as a beacon in the realm of telecommunication services in Pakistan. Over the years, Jazz has introduced a plethora of services to cater to the diverse needs of its vast user base. Among these, the Caller Tune (or Dial Tune/Ring Back Tone) service has seen a tremendous following. It allows users to set a tune that callers hear instead of the conventional ringing sound until the call is answered.
However, there might come a time when you'd like to revert to the traditional ringing or simply change the tune to something else. If you're wondering how to unsubscribe Jazz Caller Tune service, you've come to the right place! Let's delve deep into the comprehensive steps.
How to Unsubscribe Jazz Caller Tune?
There are different methods to unsub from Jazz Caller Tune. All of them are described below in detail.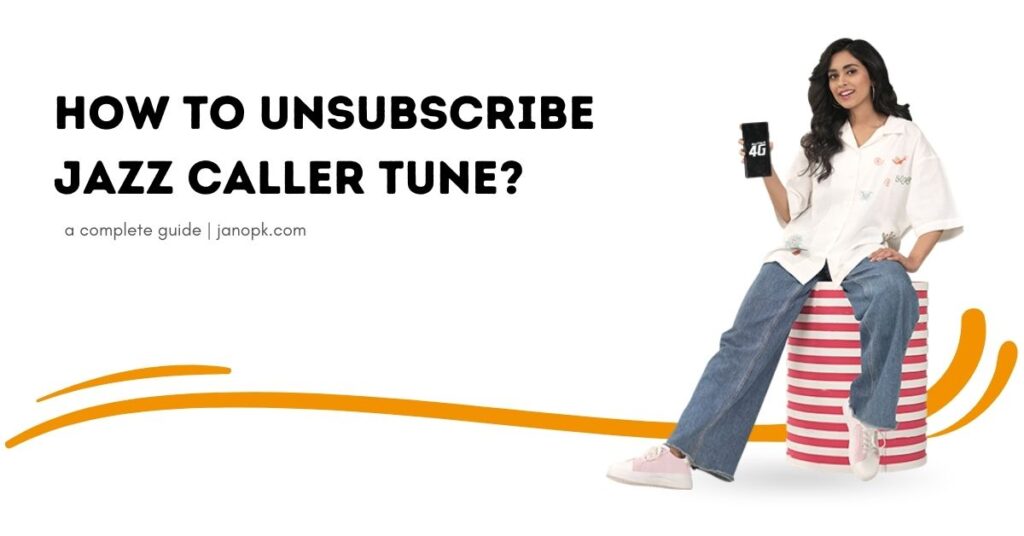 1. Unsubscription Via SMS
One of the easiest and quickest ways to deactivate your Jazz Caller Tune service is via SMS. Here's how you can do it:
From your Jazz number, compose a new message.
Type "Unsub" or "OFF".
Send it to 230.
Wait for a confirmation message which should arrive shortly, indicating that the service has been deactivated.
2. Using the USSD Code
Unstructured Supplementary Service Data (USSD) codes offer a direct line of communication between users and the service provider's computer. To unsubscribe using a USSD code:
On your phone dialer, type 2304#.
Press the call button.
Follow any on-screen prompts, if any.
Please note, that the exact code might vary based on changes or updates by Jazz. It's always recommended to check the latest USSD code from the official Jazz website or their helpline.
3. Navigating through the Jazz World App
If you're tech-savvy and prefer app-based solutions, the Jazz World App is your best friend. The app not only provides insights into your account details but also offers a way to manage various services, including the Caller Tune service. Here's how you can navigate:
Open the Jazz World App on your smartphone.
Go to the 'Services' or 'Manage Services' section.
Find the Caller Tune service and select 'Unsubscribe' or 'Deactivate'.
4. Reaching Out to Customer Care
Sometimes, the direct approach works best. If you're facing difficulties or just prefer human interaction:
Dial 111 from your Jazz number to reach the customer care helpline.
Follow the voice prompts to speak to a representative.
Request them to deactivate the Caller Tune service for you.
5. Visiting Jazz Experience Centers
If you're near a Jazz Experience Center or franchise, consider paying them a visit. The staff there are well-trained and can assist you in person.
Walk into any Jazz Experience Center.
Ask the representative about deactivating the Caller Tune service.
They will guide you through the process, ensuring that by the time you walk out, the service is no longer active.
Points to Ponder
Charges: Depending on the terms and conditions at the time of your deactivation, there might be some charges associated with unsubscribing from the service. Always inquire beforehand.
Confirmation: After following your chosen procedure, it's crucial to ensure the service has indeed been deactivated. The best way to do this is to make a call from a different number to your Jazz number. If you hear the regular ringtone, you're all set.
Stay Updated: Telecommunication services and procedures are dynamic and can change over time. To avoid confusion or outdated methods, always keep yourself updated by checking the official Jazz website or getting in touch with their helpline.
FAQs
What is the Jazz Caller Tune service?
Jazz Caller Tune, also known as Dial Tune or Ring Back Tone, allows Jazz subscribers to set a chosen tune or song that callers hear instead of the standard ring when they call the subscriber's number. It's a way to personalize the calling experience for the caller.
Can I temporarily deactivate my Caller Tune service and reactivate it later?
There's no direct option to "pause" the service. You'd need to unsubscribe and then resubscribe if you wish to activate it again later. Bear in mind that charges may apply for both actions.
Do I need internet access to unsubscribe from the service?
Not necessarily. While you would need internet access to unsubscribe through the Jazz World App, other methods like using SMS or USSD codes do not require an internet connection.
In Conclusion
While the Caller Tune service by Jazz offers a personalized touch to your callers, there might be various reasons you'd want to switch it off. Whether it's to save on costs, revert to the classic ringtone, or just take a break, the methods above will ensure a smooth transition. Just remember to stay informed and, when in doubt, reaching out to Jazz's customer service is always a viable option. Happy calling!